Statement Valencia Half Marathon Valencia Trinidad Alfonso EDP
30 July, 2020
SD Correcaminos (running club), the organiser of the Valencia Half-Marathon Trinidad Alfonso EDP, after fully appraising the health situation and consulting all the authorities involved, hereby announces the cancellation of the 30th edition of the race. The results of the appraisal and consultation showed that it was impossible to go ahead with the trial, which was scheduled for the 25th of October 2020. We are therefore beginning to contact the 20,000 Half-Marathon runners to give them various options regarding their race entries.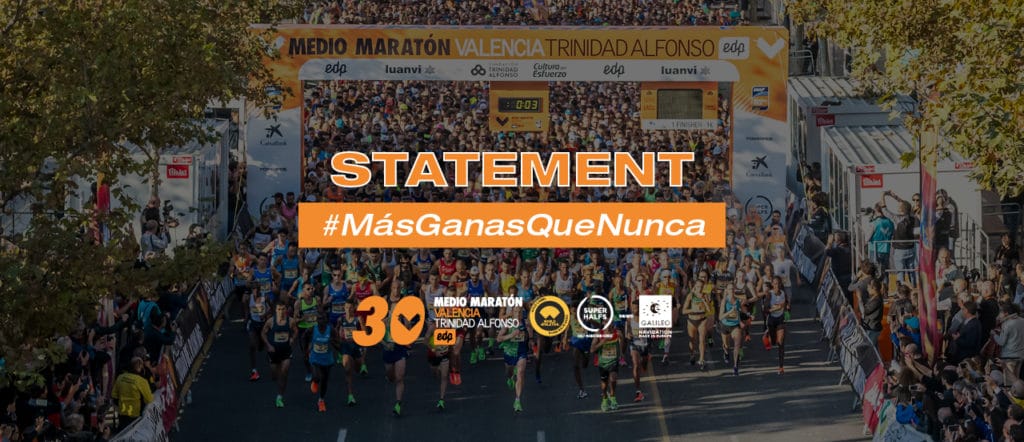 The cancellation of our event, after months of working on this historic edition of the trial, has come as a great blow to us all. Needless to say, we remain wholly committed to runners. The health and safety of the 20,000 athletes entering for the event is of paramount importance. That is why we had no option but to cancel the race. This concern also applies to runners' companions, the general public, volunteers, and the organiser's team. Under the present circumstances, it proved impossible to guarantee everyone's health and safety, hence the painful decision to cancel the event.
Accordingly, over the next few days, all entered runners will receive instructions on how they can choose between the various options regarding their 2020 race entries:
Swap your 2020 entry for a place in the 2021 edition (24th of October 2021).
Request a full refund of your entry (with the exception of the voluntary charitable donation (which will be paid as planned to PayaSOSpital, this year's charity).
Donate the entry fee as a token of your solidarity with the Race Organisation.
That is why, three months before the planned date of the race, we are beginning the process of suspending the race, addressing your concerns, and ensuring runners programming their journeys to and accommodation in Valencia are not prejudiced by the turn of events.
The Valencia Half-Marathon forms part of the European SuperHalfs circuit, whose runners can begin the challenge of finishing the five circuits in three years from 2021 onward. This series of half-marathons will begin in 2021, with the Valencia trial together with those in Prague, Lisbon, Copenhagen, and Cardiff. The same applies to the Circuito Nacional de Running Plátano de Canarias (Canaries Banana National Running Circuit), and the trials in Seville, Barcelona, Madrid, Donosti.
We hope the next few months will see the pandemic brought under control and with it a safer, more certain world. Meanwhile, we are working hard on the next edition of the race in 2021. We will then be able to look back on these present tribulations and say that it was all worth it.
Finding new opportunities and challenges in Valencia
In Valencia Ciudad del Running, we are also seeking new opportunities and challenges yet without renouncing safety. Our goal is to ensure Valencia stays at the heart of road-racing and so boost The Valencian Autonomous Community's sport business sector.
#MásGanasQueNunca
Related news