SuperHalfs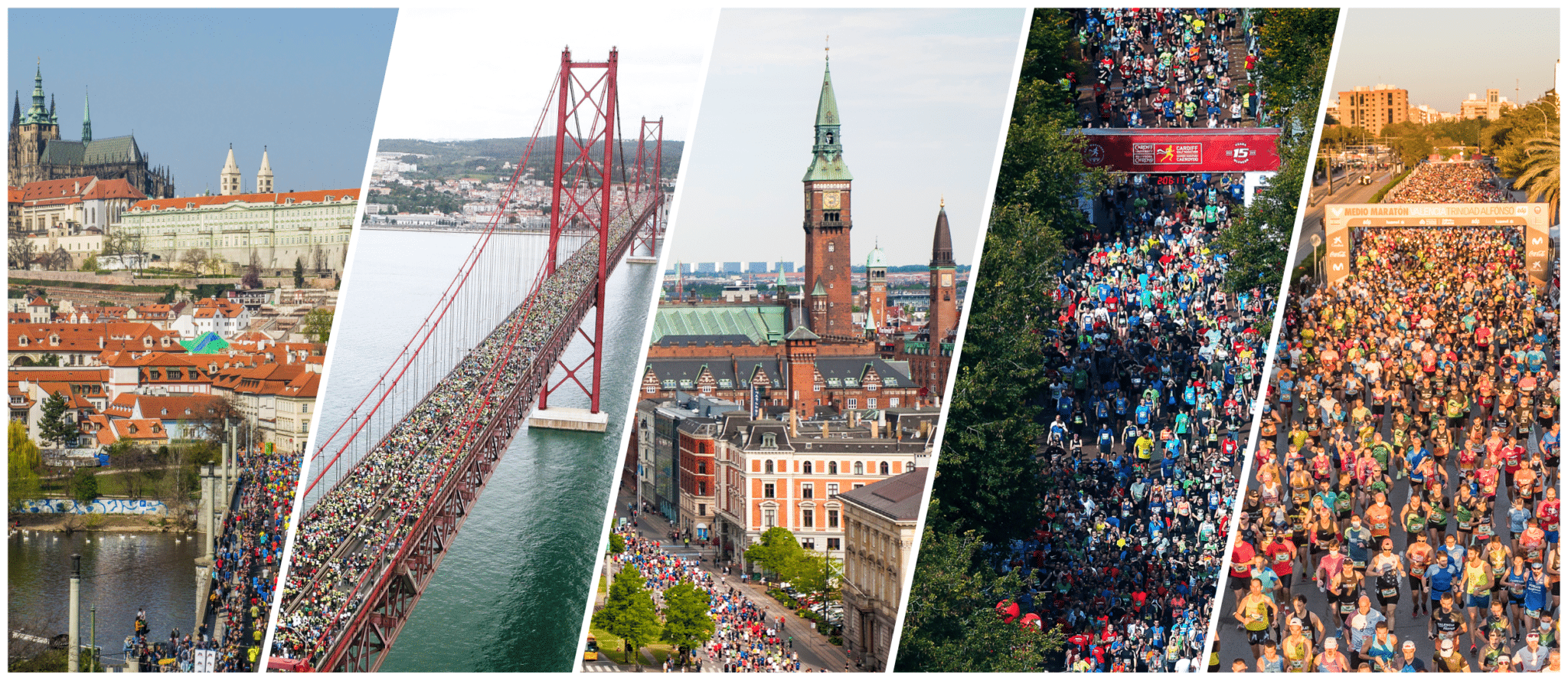 Five of the world's best half-marathons have joined forces to create the SuperHalfs, a new international circuit of five of the best trials over this distance. The new alliance brings together the five finest trials under the same brand with the goal of fostering road-running, tourism sport, and boosting environmental awareness from March 2020 on, when the series will start.
The SuperHalfs started in april 2022. The SuperHalfs begin in 2020 with the Lisbon Half-Marathon. This series offers runners a unique challenge, rewarding their efforts through: guaranteed entries; merchandising; a Digital Passport with virtual stamps for each race completed and a SuperMedal for those who complete all five races in the circuit.
The races have been chosen based on their organisational quality, popularity, location, and commitment to environmental sustainability. Every race has been awarded World Athletics labels.
Follow the SuperHalfs on Twitter, Facebook and Instagram so that you miss none of the news!
You 'half' (have) to do this

FAQs on the SuperHalfs
The SuperHalfs comprise the following races:
EDP Lisbon Half Marathon
Sportisimo Prague Half Marathon
Copenhagen Half Marathon
Cardiff University Cardiff Half Marathon
Valencia Half Marathon Trinidad Alfonso Zurich
The races have been chosen based on their organisational quality, popularity, location, and commitment to environmental sustainability. Every race has been awarded World Athletics (IAAF) labels and moreover, Copenhagen, Cardiff, and Valencia recently hosted the IAAF Half-Marathon World Championships (in 2014, 2016, and 2018, respectively).
At present, there are no plans to add any other races to the SuperHalfs. The Organisers reserve the right to add other trials in the future and will consider would-be candidates.
Individual entry for each half-marathon:
You will find links to enter the races at
www.superhalfs.com
. These races are very popular and entries run out quickly — in some cases several months before the event. If you wish to take part, we strongly recommend you make your entry as early as possible. If you have registered at
www.superhalfs.com
, you will receive alerts through our e-newsletter when entries open. Entry through a SuperHalfs' charity: Take part in one or more races through SuperHalfs' official charities. The places available will be announced in the Charity Partners section. Many charities offer free or discounted entries in exchange for a commitment to help them raise funds. In many cases, these places are reserved even though the races have run out of ordinary entries. Entry with the Series Pass: Series Passes give runners the chance of taking part in the five races in the series at a discounted price of just €230. A limited number of Series Passes are issued each year. You can buy one in the 'Series Entry' section. On buying a Series Pass, you will receive access codes. These can be exchanged for entries on the web sites of each of the races. From the moment you buy your Series Pass, you will have 36 months to use your access codes. There is a ceiling on the number of entries for each race so the pass does not guarantee you a place in a given year for the five races. Nevertheless, if entries for the race you want to compete in have run out, all you need to do is use your access code to sign up for the next year's race (when entries are opened for the trial).
Given that SuperHalfs races are so popular, many runners miss out because entries sell out before they can secure a place. Even so, you may still get an entry if you go through one of SuperHalfs' official charities. If no places are left through the preferential charity channel, you will have to wait until the following year to enter. If you have bought the Series Pass, you have 36 months to exchange your access codes for race entries.
The SuperHalfs web page mentions exclusive benefits and incentives for SuperRunners striving to complete the circuit. What are these benefits and incentives?
SuperRunners will reap the following benefits:
They will have priority when it comes to entries. If they have filled in a profile at www.superhalfs.com, they will be the first ones to know when entries are opened for each of the five races,
giving them a better chance of getting a place
before they run out. SuperRunners are guaranteed a quota of places in each race. These are available to those athletes taking part through SuperHalfs fund-raisers (one has to raise a given sum previously agreed with the charity that is going to give one a place). This means SuperRunners will still get the chance to take part in races even when entries have been closed.
SuperRunners
can buy exclusive brand products
SuperHalfs
at the races or through
www.superhalfs.com
as soon as they become available. The range of official products is not available yet but details of them will be published soon.
SuperRunners
will have exclusive access to the special offers and discounts made by
SuperHalfs
partners and sponsors. They can also access content on training, by courtesy of
RealBuzz
, at
www.superhalfs.com
.
SuperRunners
will have Digital Passports, which they can use to monitor their participation in the 5-race circuit and to create content to share with friends and family through social networks. SuperRunners will receive a SuperMedal on successful completion of the series of races.
WHAT ENVIRONMENTAL COMMITMENTS DO THE SUPERHALFS MAKE?
The five cities (Lisbon, Prague, Copenhagen, Cardiff, and Valencia) have joined forces to come up with practices and policies to lessen our dependence on polluting materials, to cut down plastic and paper waste, and to avoid unsustainable materials and business practices. The SuperHalfs have come up with a "Sustainability Cycle" that is based on the UN's Sustainable Development Goals (SDGs). These will be used to report on the environmental policies adopted by the five races. Details on policy will be shared with runners, with information provided on both policy initiatives and their practical application by race organisers. The goal is to ensure that the only 'environmental footprint' we leave behind is that made by our running shoes.