Presentation
The Valencia Half Marathon Trinidad Alfonso Zurich is the fastest half marathon in the world. We hold the women's world record, the 1:02:52 by the Ethiopian athlete Letesenbet Gidey (2021) and the second best time of the history, 57:32 run by the Kenyan athlete Kibiwott Kandie (Elite Edition, 2020).
Key points
Next race:
Organiser:
Accolades:
World Athletics Gold Label
Best Half Marathon in Spain, voted by the Royal Spanish Athletics Federation (RFEA).
Member of circuit SuperHalfs Series
Records:
Kibiwott Kandie – 57:32 World Record (2020)*

Letesenbet Gidey – 1:02:52 World Record (2021)

 

*No longer current world record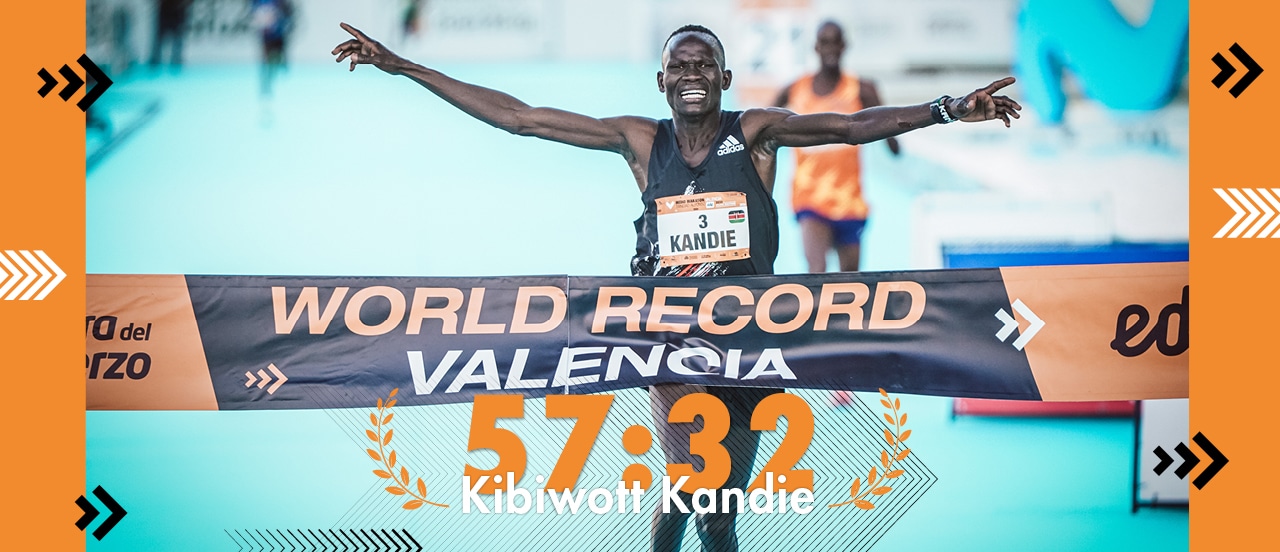 Course:
The Valencian 21K is the ideal circuit to achieve a very fast time.
Runner's Expo
The Runner's Expo, where the race bibs and bags are collected, is held on the Friday and Saturday before the race.
Welcome To Valencia
If you are coming from another city to run in Valencia, we recommend you arrange your trip through Welcome to Valencia, the race's official travel agent which offers the best services and prices for runners (late checkout included, welcome gift, cancellation due to injury without charges, etc.)
SuperHalfs
The Valencia Half Marathon belongs to the SuperHalfs, the international series that brings together the best races in the world at the distance. Lisbon, Prague, Copenhagen, Berlin and Cardiff complete the list, due to the high standard with which they are organised, their care for the runners and World Athletics labels.
The aim of this alliance is to promote running, sport tourism and to raise awareness about the environment.

Plátano de Canarias National Running Circuit
This is a series of races that includes the Seville Half Marathon, the Mitja Marató in Barcelona, the Behobia-San Sebastian and the Madrid Rock'n'Roll Half Marathon. +info here
Charity:
Each year the Valencia Half Marathon chooses a charity to receive the voluntary donation given by the runners during the registration process, as well as the cheque the Z Zurich Foundation hands over each year, through which it adds '€1 per finisher'.
Find all the details here about the charity chosen by the Valencia Half Marathon.
Social media:
Our social media are an essential way to find all the latest news on the races:
The best pictures from the Valencia Half Marathon