Charity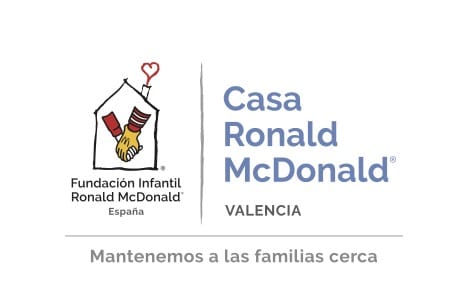 The Ronald McDonald Foundation has been chosen by the Organising Committee as the charity of the 43rd Valencia Marathon Trinidad Alfonso.
The Ronald McDonald Children's Foundation aims to launch and support initiatives that promote the welfare of children through various activities, mainly by providing advice and the funding needed to create and maintain Ronald McDonald Houses in Spain. It also provides grants for charitable initiatives in the educational, scientific-medical and charity fields to other foundations or organisations that support initiatives to boost the welfare of children and their families.
Casa Ronald Valencia is a "home away from home" that welcomes families free of charge who have to travel to Valencia so that their child can receive long-term medical treatment for a serious illness. Located on the La Fe hospital grounds, this home has taken in 1,400 families since 2013, helping families to focus on their children's well-being, without having to worry about the logistical and financial problems involved in being away from their usual place of residence.
In addition to the runners in the registration process, anyone, registered or not in the Valencia Marathon, who wishes to donate to this year's charity and cause can do so by clicking on the following link or button:

The charity donations given by runners when registering for the Valencia Marathon, as well as the contribution from the Z Zurich Foundation through its charity campaign, which adds 50% to the amount* donated by the runners, will be given to the charity chosen by the Marathon Committee each year.
*Up to a maximum amount of €50,000 for both the Valencia Half Marathon and Marathon.
Past charitable donations
Below is a list of charity donations in recent years:
| | | | |
| --- | --- | --- | --- |
| YEAR | EDITION | RECIPIENT CHARITY | AMOUNT DONATED |
| 2011 | 31st | UNICEF | €3,741 |
| 2012 | 32nd | CASA CARIDAD VALENCIA | €10,775 |
| 2013 | 33rd | AVAPACE | €14,549 |
| 2014 | 34st | SANT JOAN DE DÉU- SERVEIS SOCIALS- | €15,572 |
| 2015 | 35th | FUNDACIÓN ACTIVA ESPINA BÍFIDA COMUNITAT VALENCIANA | €19,947 |
| 2016 | 36th | FUNDACIÓN DE AYUDA A NIÑOS Y ADOLESCENTES EN RIESGO (ANAR) | €21,929 |
| 2017 | 37th | ASOCIACIÓN ALANNA | €22,783 |
| 2018 | 38th | FUNDACIÓN PEQUEÑO DESEO | €26,534 |
| 2019 | 39th | JUEGATERAPIA | €29,544 |
| 2020 | 40th | SAVE THE CHILDREN | €43,996 |
| 2021 | 41st | DOCTORS OF THE WORLD | €18,126 |
| 2022 | 42nd | GASOL FOUNDATION | €44,298 |
On the other hand, it is worth noting that there are many ways in which support is being offered to charities. These are just some of the different activities through which the Valencia Marathon Trinidad Alfonso is partnering with its charity organisation:
Mini Valencia Marathon MSC
This parallel activity has been enjoyed by the youngest children since 2014 and promotes athletics from the earliest ages. The Mini Marathon is a further example of the social involvement of the Valencia Marathon Trinidad Alfonso. In addition to being an activity aimed at the youngest members of families, registration for the race involves a donation of €3 to the official charity.
Charity donation
The Valencia Marathon Trinidad Alfonso offers all its runners the option of donating an extra amount of money that will go entirely to that year's charity.
And if you are not going to run, you can still participate by making a charity donation through this direct link.