SuperHalfs: Super cities of Lisbon, Prague, Copenhagen, Cardiff and Valencia launch new half marathon series
7 September, 2019
Five of the world's leading half marathons have partnered to create the new SuperHalfs international running series.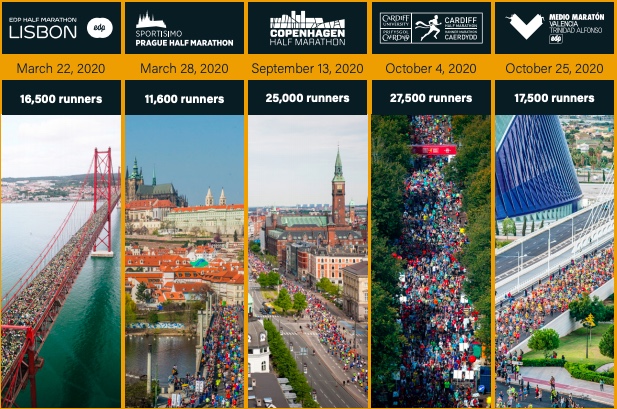 The innovative series will bring five of the world's most beautiful races under the same banner with the aim of promoting running, tourism and environmental sustainability in each of the member cities.
Almost 100,000 participants are set to race at five iconic locations when the inaugural series gets underway in 2020. Runners will have access to a SuperRunner experience, including guaranteed registrations, special race numbers with priority pick up, original merchandising, virtual  SuperRunner Passport, a SuperMedal (after completing the series) and the chance to see their names go down in the SuperHalfs Hall of Fame.
Lisbon, Prague, Copenhagen, Cardiff and Valencia; five great cities, five world class events, selected based on their quality, popularity, location, and their sustainability policies.
SuperHalfs participants will run top races in historical cities, across unique and fast courses. All hold IAAF (World Athletics) labels and three are recent IAAF World Half Marathon Championships hosts.
The SuperHalfs hosts will offer the best experience to runners, whilst committing to improving environmental sustainability. Every event will strive to reduce their own carbon footprint with the common goal of becoming the most sustainable collection of half marathons worldwide.
The new series offers running enthusiasts the unique opportunity to map out their own running adventure and be rewarded for their efforts with exclusive benefits. All runners have to do to begin their journey is sign up for any of the SuperHalfs races in 2020. After completing the first race on the SuperHalfs calendar, participants will receive a SuperPassport and after each race, an e-stamp will appear on this virtual and personalized 'document'. All communications will be digital and runners have 36 months to complete the series to be in line to become a SuperRunner.
This series creates value for the running community bringing great new opportunities to run, travel, and have fun! Coming Soon!
The Races
EDP Lisbon Half Marathon – 22nd of March, 2020
Celebrating its 30th anniversary, the EDP Lisbon Half Marathon is one of the most popular races in the world. Its unique course, starting at the 25 de Abril Bridge, the perfect weather and the IAAF Gold Road Race label, attract thousands of foreign runners every year. Being one of the fastest half marathons in the world (has held the world record from 2010 to 2018) guarantees the presence of top elite athletes too.
The race is a fantastic opportunity to run in a beautiful city, full of history, with great food and one of the safest places in Europe.
Sportisimo Prague Half Marathon – 28th March, 2020
The Sportisimo Prague Half Marathon, now more than 20 years old, and hosted by RunCzech, grew out of a desire to inspire Czechs to get out and run. To make the Czech Republic a happier, healthier place. And to cement the country's reputation as a vital running center in the middle of Europe, with legendary distance runner Emil Zatopek serving as our guiding spirit.  Our mission has always been to make running here as close to perfect as possible:  A fast course that saw Joyciline Jepkosgei set Women's World Record in 2017. Views that are unmatched anywhere in the world, including the awe inspiring Prague Castle. A festival atmosphere that makes the event equally popular with runners and spectators. And an attentiveness to runners' needs that has earned the race IAAF Gold. 
Copenhagen Half Marathon – 14th September, 2020
Established in 2015, the Copenhagen Half Marathon has become renowned worldwide for its combination of a fiercely fast course, a cool and urban Nordic atmosphere and a mild and moderately warm September climate ideal for setting fast times. The '19 race edition has reached maximum capacity of 25,000 runners representing more than 100 different nations, who can look forward to a one-of-a-kind sightseeing experience through all the central districts of Copenhagen, packed with highlights, scenic views, entertainment and massive cheering. The entire city turns out to support you and leave you with a feeling of having completed much more than a race.
Cardiff University Cardiff Half Marathon – 4th of October, 2020
The Cardiff University/Cardiff Half Marathon has grown to become one of the largest and most exciting road races in the United Kingdom, promising to deliver the full works for the half marathon. Its flat, fast course passes all of the city's most breathtaking scenery and iconic landmarks including Cardiff Castle, the Principality Stadium, historic Civic Centre and stunning Cardiff Bay. Thousands of spectators turn out to cheer on the runners in a city renowned for its sporting passion. Cardiff is a lively capital city offering unique attractions, world-class sport stadiums, vibrant entertainment, waterside eateries and seemingly endless parkland. The half marathon has grown significantly since it's inception in 2003, attracting a mass race field of over 27,500 registered runners alongside world class athletes in a trio of fiercely contested men's, women's and wheelchair elite races.
Valencia Half Marathon Trinidad Alfonso EDP – 26th of October, 2020
The Valencia Half-Marathon Trinidad Alfonso EDP has become the world's fastest race and is a 'can't miss' event this Autumn for both national and international runners. Race bibs have run out for the event for two years. The numbers for the event are spectacular and include the Women's World Record, chalked up by Joyciline Jepkosgei in 2017 (1h04:51), and the Men's World Record, set by Abraham Kiptum in 2018 (58:18). For the sixth year in a row, the race was Spain's fastest half-marathon. The whole city turns out for the event, with crowds cheering runners every step of the way. Valencia not only has a pleasant, mild climate but also a course that is flat and designed to be lightning-fast.
Related news