Valencia Half-Marathon beefs up its cohort of elite athletes in the quest for new world records
2 September, 2019
The Valencia-Trinidad Alfonso EDP Half-Marathon announces new international elite athletes on the hunt for world records in both the Men's and Women's categories for the trial on the 27th of October in Valencia.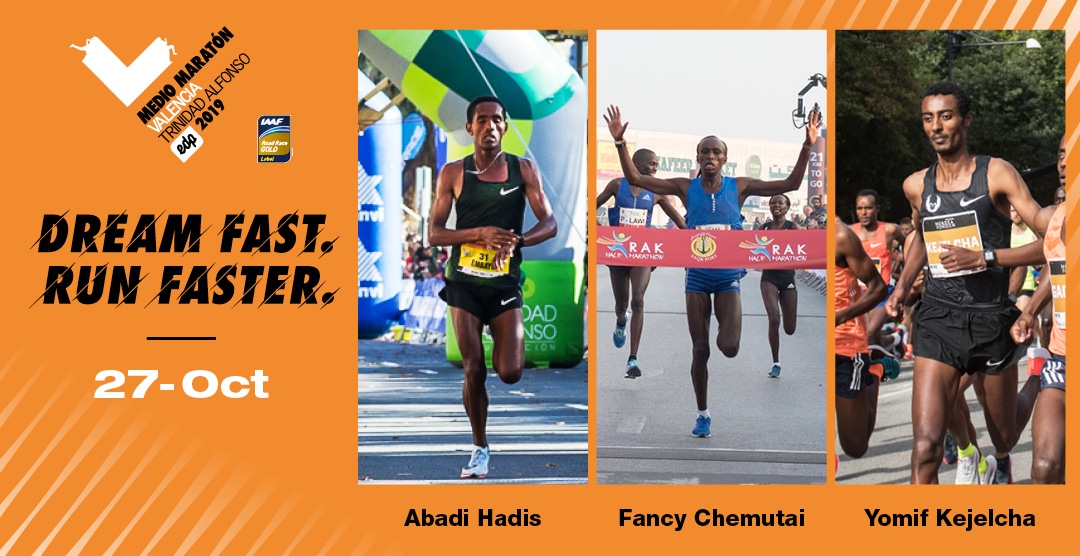 For this edition of the race, Marc Roig, selector of the international elite for the Half-Marathon, has added the names of Yomif Kejelcha, Abadi Hadis, and Fancy Chemutai. They will beef up what is already a very strong cohort of elite athletes. These runners will fly through the streets of Valencia Ciudad del Running in their quest for world records.
The Ethiopian athlete Yomif Kejelcha (59:17 – Copenhagen 2018), will be the first runner from the Nike Oregon Project (an American initiative that brings together some of the world's best long-distance runners) to compete in Valencia. This year, Yomif set a new indoor record for the mile (3:47.01) and just a few weeks ago in the Ethiopian 10,000-metre trials, he set a sizzling time of just 26:49.99. This makes him a star athlete who is incredibly versatile over almost any long and medium-distance trial.
His fellow-countryman Abadi Hadis (58:44 – Valencia 2018, matching this time at Ras Al-Khaimah in 2019), will again run through Valencia's streets in his quest for a record. Abadi is also in top form, having run a 10,000-metre trial in July in just 26:56.46.
In the Women's category, the Kenyan runner Fancy Chemutai, who holds the second-fastest world time ever in the 21,097.5-metre trial (1 hour 04:52), will compete alongside Sembere Teferi in her quest to beat the world record set in 2017 by the Kenyan athlete Joyciline Jepkosgei (1 hour 04:51) in Valencia. Chemutai has now recovered from the spate of injuries she suffered in 2018. She ran the 10,000-metre trial at Peachtree, Atlanta in 30:32.
Thus Yomif, Abadi and Fancy will join other runners who have already confirmed their participation, such as: Stephen Kiprop, who has so far set the fastest time for the half-marathon in 2019 (58:42); Jemal Yimer, a speedy Ethiopian national runner who holds the fourth-fastest ever world record (58:33); the Ethiopian athlete Sembere Teferi.
The Organisers will offer a prize of €70,000 (which will be in addition to the prizes listed in the Regulations) to those athletes setting a new Men's or Women's record. There will also be a bonus of €30,000 if the runner sets a time under 58:00 for Men, or a time under 1 hour 04:30 for Women.
Related news