The Valencia Half Marathon upgrades its route with improvements for runners
7 July, 2023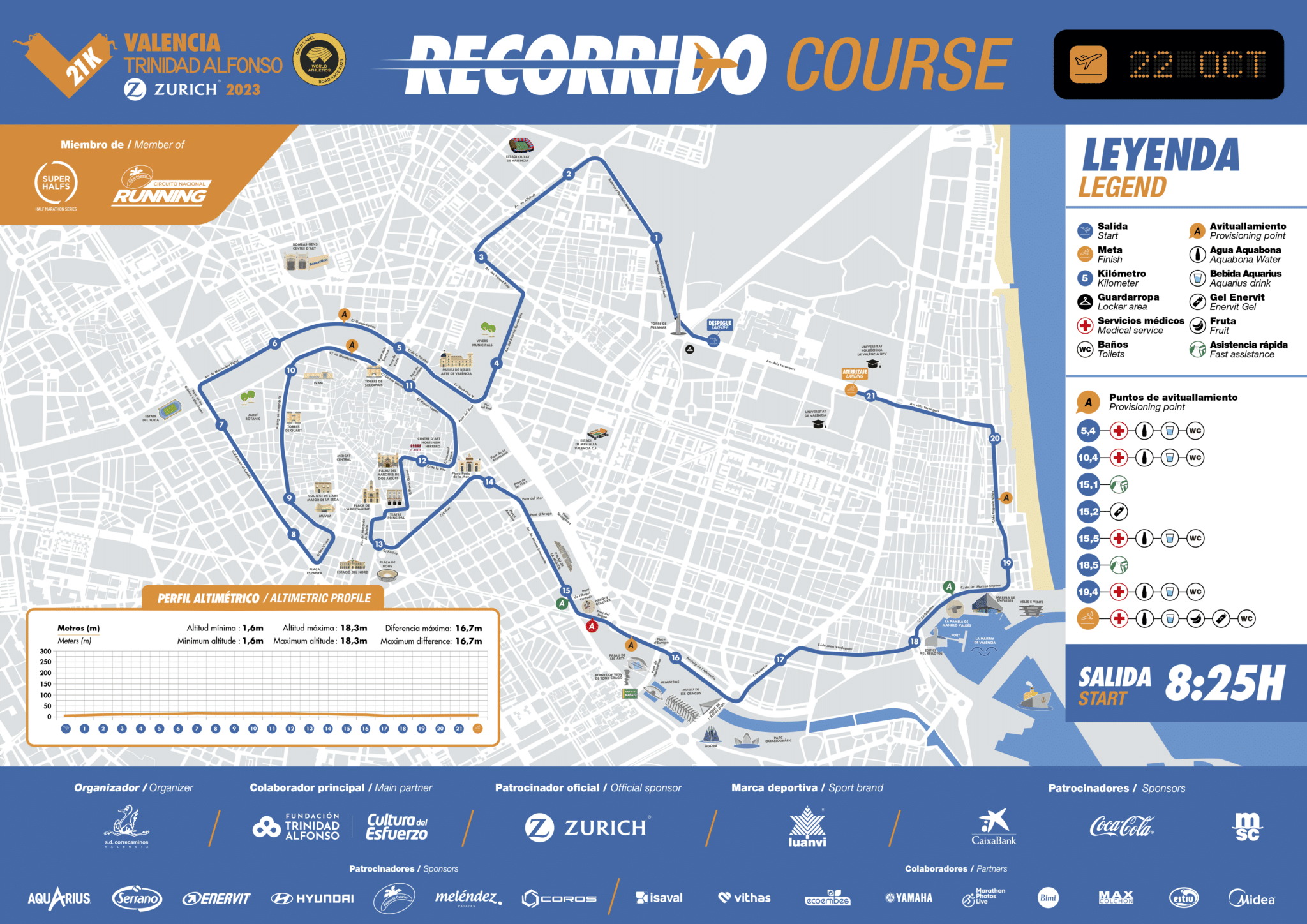 The Valencia Half Marathon Trinidad Alfonso Zurich, organised by SD Correcaminos, has upgraded its route with some improvements for participants just weeks after selling out the 22,000 race bibs available to run on 22 October in the ciudad del running. 
The start and finish line will remain in Avinguda de Tarongers, but the runners, who will be divided into six boxes and waves based on their times, will start their journey to the finish line in the opposite direction to last year, that is to say towards Bulevar Nord, after going around Torre Miramar.
After running the first few kilometres along fast, wide avenues such as Alfahuir, Primado Reig and Botánico Cavanilles, the runners will take to the banks of the old Turia riverbed as far as Gran Vía Fernando el Católico, which will lead them into the historic quarter, passing the Torres de Quart and Torres de Serranos, before entering the city centre along Calle de la Paz, which can once again be included in the route now that the roadworks that prevented it from being used last year are finished. 
The streets in the centre of the city, including Plaza del Ayuntamiento, will give way to Calle Colón before moving towards the City of Arts and Sciences and then starting the final stretch of the route to the finish line in the Marina de València. This fast route has now been officially validated by the SD Correcaminos team and judges from the Royal Spanish Athletics Federation. 
Along the route, participants will find four refreshment stations stocked with Aquabona and Aquarius, as well as the Enervit Red Point where they can pick up the gels they will need to face the final stretch towards the finish line, located in the same place as last year, where runners will find the last liquid and solid refreshment stations, as well as their finisher's medal. 
Blanca Iribas, from the SD Correcaminos route team, explained "with the changes this year we have achieved a very user-friendly route for participants, with a much smoother start and wider streets. In addition, runners will be able to enjoy the city of Valencia, as we return to the historic centre in areas including Plaza del Ayuntamiento and Calle de la Paz. It's definitely going to be a very fast and enjoyable route."
Related news