The Valencia Half Marathon beefs up its cohort of elite women runners seeking to beat the world record
25 September, 2019
The Valencia Half Marathon Trinidad Alfonso EDP announces that two international athletes are joining those already on the quest to set a new women's world record on the 27th of October in Valencia Ciudad del Running. The city has had this lofty goal since 2017.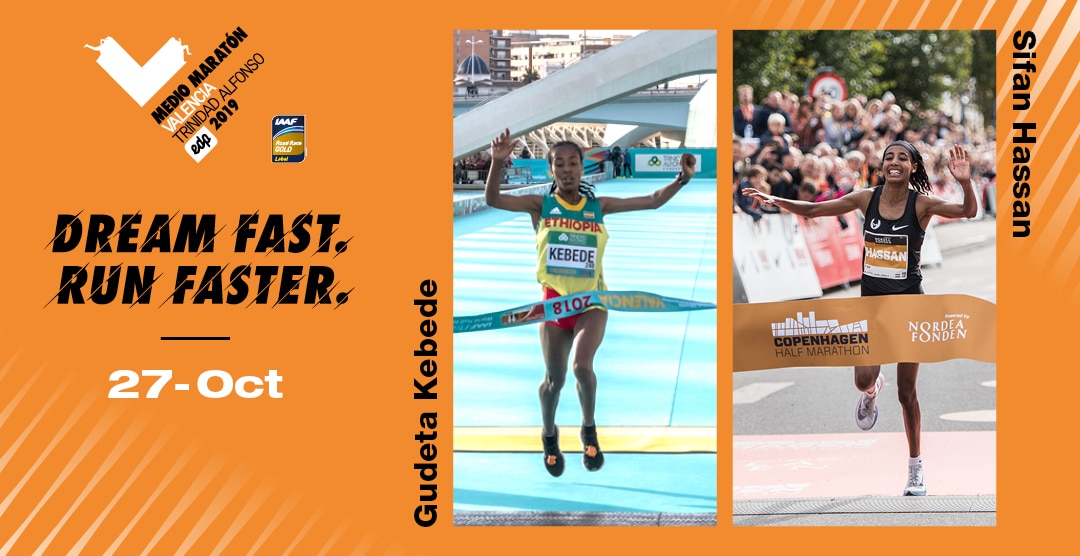 This injection of new blood comes from one outstanding athlete: Sifan Hassan, joining others who have already confirmed their participation in the trial — Fancy Chemutai and Sembere Teferi. Their quest is none other than to break the world record set by Joyciline Jepkosgei (1:04:51).
The Dutch athlete of Ethiopian origin, Sifan Hassan, comes to Valencia with a best time of 1 hour 05:15 (Copenhagen 2018) and is one of the favourites to win a place on the podium. She holds various European records, including those for the Half-Marathon, and for the mile world record (the latter won this year). Sifa is undoubtedly one of the star attractions in the Valencia race.
Gudeta Kebede, who won the gold in the past IAAF / Valencia World Marathon Media Championship held in 2018 (1h06: 11), with world registration for races of only women included, will also fight for the victory next 27th October Kebede has a better personal mark of 1h05:45, held in Ras Al-Khaimah in 2019. 
Another athlete competing with them will be the Ethiopian runner Sembere Teferi (1 hour 05:45, who will also run in Doha four weeks before the trial in Valencia), as will her fellow-countrywoman and last year's winner Gelete Burka (1 hour 06:11), and the Kenyan athletes Fancy Chemutai (1 hour 04:52) and Joan Chelimo (1 hour 05:04). This bevy of elite athletes make up a women's 'Dream Team'.
The Organisers will offer a special €70,000 prize (which is in addition to the rewards set out in the Regulations) for those athletes who set a new men's or women's world record, and award a bonus of €30,000 if the winner sets a time of under 58:00 for men or of under 1 hour 04:30 for women.
Related news