The Valencia Marathons cuts down the number of curves in the course to make it even faster
25 May, 2018
The Valencia Marathon Trinidad Alfonso EDP and Half Marathon have presented their new courses. These have been redesigned to make the trials even faster. Paco Borao, President of SD Correcaminos (running club), the entity organising the marathon with Valencia's City Council, and representatives of Valencia's City Police Force jointly presented the new circuits. These will not only be faster and easier for runners but will also fit in better with the city's activities on the day for Spain's best marathon and half marathon trials.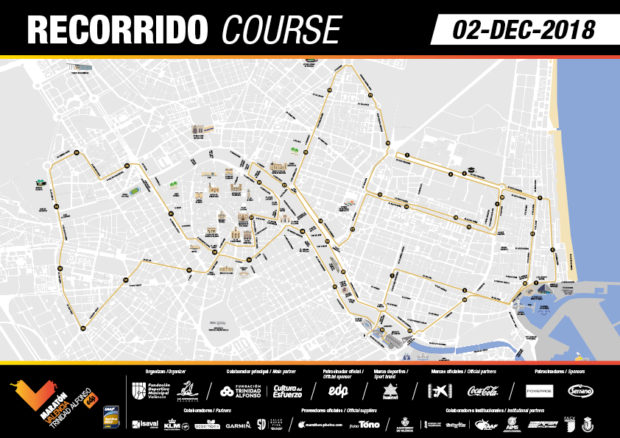 The Valencia Marathon Trinidad Alfonso EDP has undergone various enhancements, which will be approved over the following months under the corresponding certification scheme. Here, one should highlight the scrapping of several 90-degree turns and one 180-degree turn, making the route of Spain's fastest 42,195 metre race into a circuit with just 34 turns instead of the 44 hitherto.
Furthermore, on the 2nd of December 2018, the athletes will be able to put less effort into chasing new records by taking the shortest way through some of the city's big roundabouts. This will make the elite athletes faster and help amateur runners beat their personal records in a marathon that already has a bigger percentage of competitors completing the race in under 3 hours and in under 4 hours than is the case in other big trials (such as the Berlin and London marathons). This all goes to show just how fast the Valencia Marathon is.
[vcr_youtube_advanced url="https://youtu.be/Pp6dG7Ix768″ width="1600″ height="320″ autohide="yes" loop="yes" rel="no" https="yes"]
The same applies to the Half Marathon, in which the best possible conditions have been sought for the day of the race by making areas such as Avenida Pío Baroja (avenue), Pont 9 d'Octubre (bridge) and Avinguda de les Tres Creus (avenue) all traffic free, while at the same time making life easier for motorists.
[vcr_button url="https://www.valenciaciudaddelrunning.com/en/noticias-media/valencia-half-marathon-trinidad-alfonso-edp-presents-its-new-circuit/" target="blank" background="#F68D2E" color="#080606″ size="10″ wide="yes" center="yes" radius="20″ icon="icon: mail-forward" icon_color="#080606″ text_shadow="0px 0px 0px #ffffff" class="boton-vcr-std"]Discover the new circuit for the Valencia Half Marathon[/vcr_button]
Related news