The Valencia Marathon presents Luanvi's shirts for 2018
1 August, 2018
The Marathon, Half-Marathon and 10-kilometre Valencia /Trinidad Alfonso Race present their shirts for 2018. The shirts share design lines and have a colour range that highlights the three big trials in Valencia — 'The Running City'. The technical garments are again made by the Valencian firm Luanvi, whose quality running shirts are ideal for road races.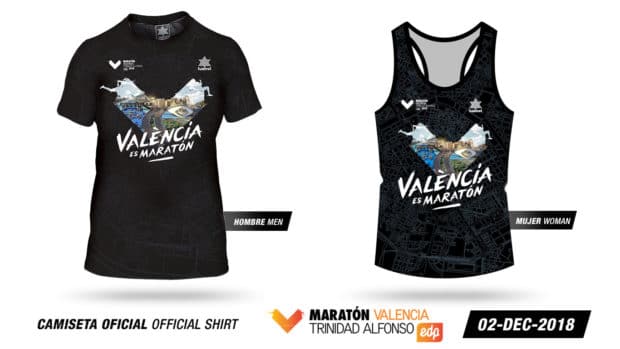 Black is the colour chosen for the Valencia-Trinidad Alfonso EDP Marathon. The front of the shirt features the 'V', which is used to badge Valencia — 'The Running City'. The symbol is prominently displayed at the Start Line of the race at Puente de Monteolivete (bridge) and on the boardwalk over the lake at the Finish in the City of Arts and Sciences. The shirt also bears a picture of Valencia City Council — joint organiser of the event with SD Correcaminos (running club). In addition, the bottom part of the 'V' has the slogan 'València es Maratón' (Valencia is Marathon-running), which, together with the shirt's black colour, differentiates the garment from those used for the Half-Marathon and the 10-kilometre Race.
The back of the shirt that will be worn by runners in Spain's best 42-kilometre trial on the 2nd of December 2018 bears the official hashtag for the trial: #ValenciaEsMaraton, a map of the new circuit, and the distance: 42,195 metres. A street map of Valencia is used as a background image for the whole shirt.
[vcr_button url="https://www.valenciaciudaddelrunning.com/en/marathon/marathon-registration/" target="blank" background="#0d0700″ color="#f1fbf6″ size="10″ wide="yes" center="yes" radius="20″ icon="icon: mouse-pointer" icon_color="#fef3f3″ text_shadow="0px 0px 0px #ffffff" class="boton-vcr-std"]Still haven't sent your entry form? Do so now![/vcr_button]
Related news