The Hanson Method takes Moira to Valencia
13 June, 2018
Moira Westley flew to The United Kingdom after her second participation in the 10-kilometre Valencia Trinidad Alfonso Race. A chance encounter on the flight home to the UK after the last edition of the race will bring her back in 2018, although on this occasion, it will be to take part in the Valencia-Trinidad Alfonso EDP Marathon. "On the flight back home, I met a man who had run in the 42,195-metre trial. He was very inspiring and told me all about the Hanson Method of training. I decided to return to Valencia if I could first complete a marathon in The United Kingdom", said this Lincolnshire lass, who celebrated her 55th birthday on the 1st of June.
The Hanson Method (which is very popular in The United States) is somewhat unconventional because it involves racking up a lot of kilometres. Nevertheless, it worked like a dream in Moira's case: "I entered for the Boston Marathon, which I ran in April. It was great and I did well in the Veteran category. The following week, I reserved my running bib for Valencia. My target time is 3 hours 45 minutes".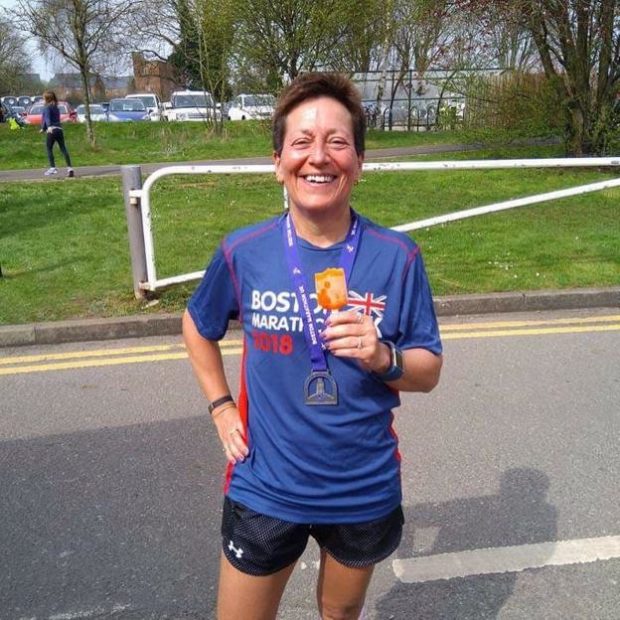 "Valencia is a wonderful city to visit at any time of the year and especially during the Marathon; the event is very well organised. The beginning of the race and the circuit are fantastic and the city's support for the race is spectacular", she said in a voice trembling with emotion as she thought of The Finish: "The end of the race across a floating bridge is simply amazing!". Even though she has not yet run the Valencia Marathon, she has friends who have. In fact, Britons are the third-biggest group of foreigners running the race after the Italians and the French. On the 2nd of December, Moira will not be alone in Valencia. "My partner, Rob, will be running in the 10-kilometre Race, along with my friend Susie and her husband Gerry. Susie and Gerry live in Guardamar del Segura".
Moira says she is now "a big fan of amateur athletics" and cannot imagine life without road-running. Yet she says this was not always so: "I was the Head of Logistics in a company but I decided to turn over a new leaf and to become a personal trainer. I began doing that in 2015". Now she combines sport with family commitments: "I have a daughter, Rachel, who is 34, and four grandchildren".
Story published in Las Provincias newspaper
[vcr_button url="https://www.valenciaciudaddelrunning.com/vcr/historias-de-42-195-km/" target="blank" background="#080606″ color="#ffffff" size="12″ wide="yes" center="yes" radius="20″ icon="icon: book" icon_color="#ffffff" text_shadow="0px 0px 0px #010101″ class="boton-vcr-std"]Read other Marathon stories[/vcr_button]
Related news