The Valencia Marathon lets runners transfer their race bibs for reasons other than profit
24 October, 2018
The organisers of the Valencia-Trinidad Alfonso EDP Marathon — SD Correcaminos (running club) and Valencia City Council — decided in October to set a ceiling of 22,000 runners for the 2018 race. The reasons for setting a limit were to ensure the safety and quality of the event. The organisers made this decision despite huge demand from runners. This meant foregoing the revenue that would otherwise have accrued if the organisers had accepted more entries.
In providing good service to runners, the Valencia Marathon has maintained its policy of returning the entry fee for injury and change of runner. The organisers will not change these services because they clearly benefit runners.
The organisers have decided to extend the deadline for changing the registered name for a bib number, the deadline for which was given as 15th November in the regulations, and to allow the authorised transfer of numbers without additional charges until the day before the race, 1st December, at 5 pm.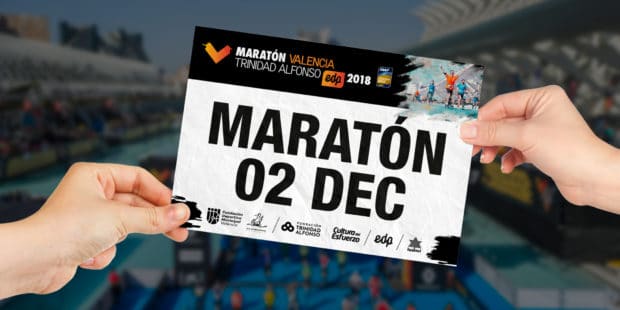 Over the last few weeks, we have seen many changes to the names of those entered for the race, mostly for legitimate reasons. However, there have been many cases where there is evidence of runners seeking to turn a profit on their entry by reselling their bibs to others wishing to take their place.
That is why the Valencia Marathon hereby announces that:
Change in registered bib name up to 27th November:
The registered runner will receive a refund on the registration fee by the same method as payment (refund on bank card or by transfer) and the new runner will have two days to register at the same price as the runner who is giving up their bib. This registration must be made using the code received by the first runner. In doing this, the organisers are acting in an ethical manner by not trying to make a profit from the transfer.
Conditions:
Reimbursement of the initial registration will be made 7 days after the new registration has been completed. If the new registration is not completed or formalised, the initial runner will not receive a refund. And their registration will continue to be valid.
No second change of registration will be allowed.
Cost: 3 euros for management on the platform, to be paid by the new runner, together with the price paid in the first registration depending on the tranche plus the RFEA Day Licence (5 euros in the case of the Marathon).
[vcr_button url="https://secure.valenciaciudaddelrunning.com/tienda/servicios/form-inscrito.php?opcion=CN&langPR=es" target="blank" background="#161514″ size="10″ wide="yes" center="yes" radius="20″ icon="icon: exchange" icon_color="#ffffff" text_shadow="0px 0px 0px #ffffff" class="boton-vcr-std"]Request a change of runner[/vcr_button]
Change in registered bib name from 29th November to 1st December (at 5 pm):
The process is the same with these conditions:
The cost will be 10 euros, to cover the cost of reprinting the bib, box assignment and packaging for delivery at the runners' fair.
Refunds of entry fees because of accredited injury will be maintained for those runners who do not find someone wishing to compete in the event or who do not wish to change the runner's name. As stipulated in The Regulations, such refunds are available up until the 28th of November and can be managed here:
[vcr_button url="https://tickets.valenciaciudaddelrunning.com/tienda/servicios/form-inscrito.php?opcion=BL&langPR=es" target="blank" background="#161514″ size="10″ wide="yes" center="yes" radius="20″ icon="icon: ambulance" icon_color="#ffffff" text_shadow="0px 0px 0px #ffffff" class="boton-vcr-std"]Entry fee refund request because of injury[/vcr_button]
Related news