A medal to reward the effort of thousands of Finishers in Valencia
2 November, 2018
This is the medal you will receive on the 2nd of December when you cross that amazing Finishing Line over the pond in The City of Arts and Sciences. The medal is a reward for your effort in running Spain's fastest 42-kilometre circuit.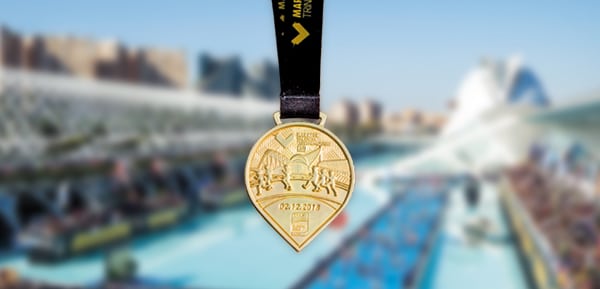 [vcr_youtube_advanced url="https://youtu.be/cF2xmU9MNhI" width="1600″ height="320″ autohide="yes" loop="yes" rel="no" https="yes"]
Personalise your medal
Before the Valencia-Trinidad Alfonso EDP Marathon. You can reserve this service online before the race at the cheapest price: €5.
In the days before the Marathon, at The Runners' Fair in Valencia. There will be a stand at The Runners' Fair where you can buy a ticket on either the 30th of November or on Saturday the 1st of December for €7.
Post-Finish. Once you have finished the Marathon or the 10-Kilometre race, you can personalise your Finisher's Medal with your name and the time you ran the race in at a price of €10.
[vcr_button url="https://tickets.valenciaciudaddelrunning.com/#/ES/home/ri83GQ" target="blank" background="#030100″ color="#ffffff" size="10″ wide="yes" center="yes" radius="20″ icon="icon: mouse-pointer" icon_color="#ffffff" text_shadow="0px 0px 0px #ffffff" class="boton-vcr-std"]Request engraving of your medal now![/vcr_button]
Related news