The 4.0 Trinidad Alfonso EDP Valencia Marathon Virtual Edition will be run all around the world
10 September, 2020
Runners from anywhere in the world can take part in the 40th anniversary of the Trinidad Alfonso EDP Valencia Marathon by running the Virtual Edition in the place of their choice. The participants in the race, which will be non-competitive, will be able to complete its 42,195 km throughout four days between the 3rd and the 6th of December, both inclusive, and will receive a very special runner's bag at home.
Runners who were already entered in the 2020 marathon, whose popular version was cancelled for obvious health reasons, have the possibility of transferring their entry to this virtual event by choosing this option in the process that will open on the 15th of September. Registration for the 4.0 Trinidad Alfonso EDP Valencia Marathon Virtual Edition will be open until the 15th of October for everyone, since other non-registered runners may now also participate by completing the registration process for this virtual event.
All participants will receive a complete runner's bag including the commemorative Luanvi shirt for the event in the chosen size (male and female design); the 40th anniversary medal; a training plan specially developed for this challenge by José Garay, the coach of CA Serrano; a customised bib; an event gymsack; six packs of Enervit gel; a Valencia Marathon bracelet; Dark Chocolate Mini-bars by Chocolates Valor and the special 40th anniversary magazine. All this will be included in a special packaging and will be sent to the runners' homes (at no extra cost). In addition, those who take part will have preferential registration at the price set for the first tranche of entries for the 2021 edition (until all bibs are sold out) and other surprises to be discovered.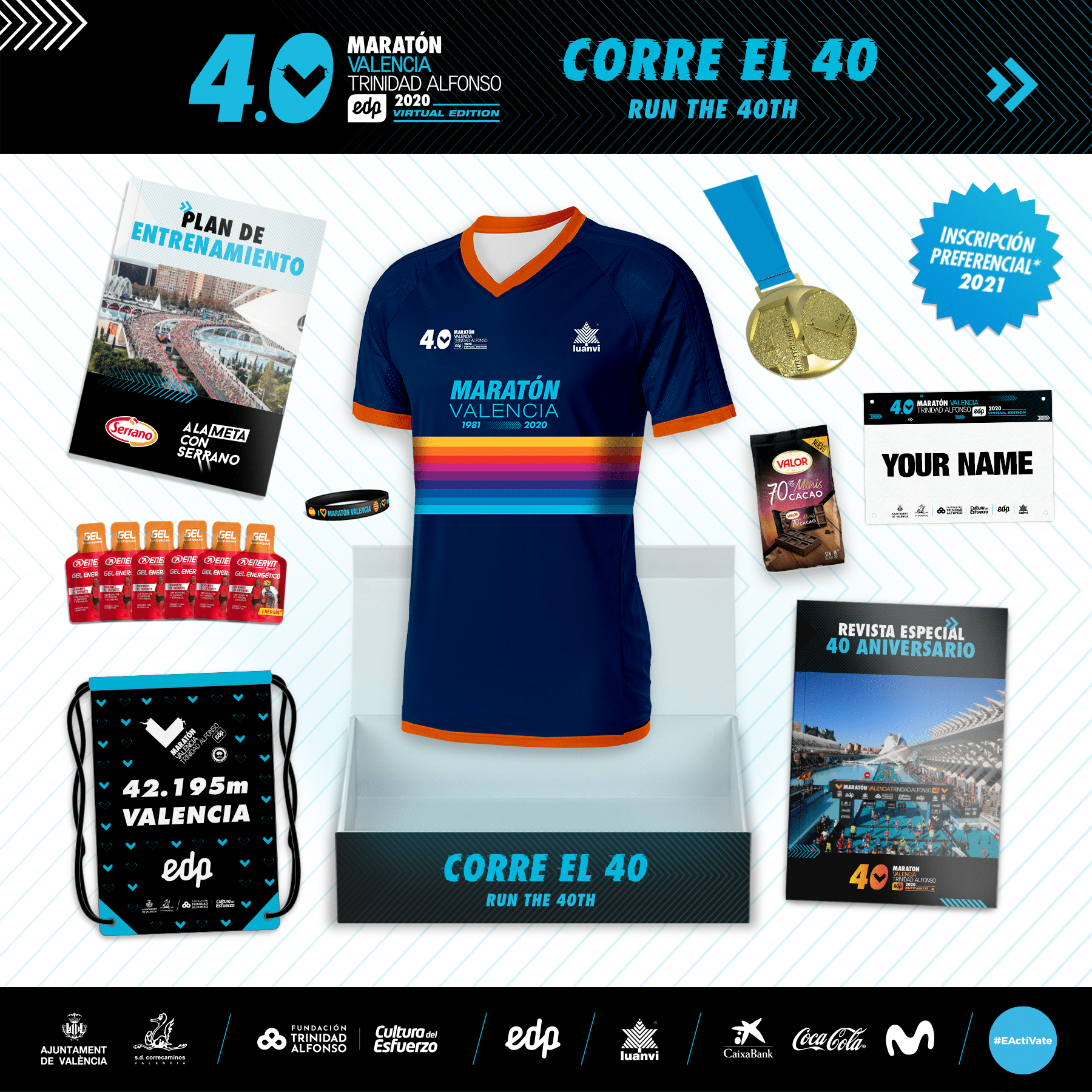 The purpose of the 4.0 Valencia Marathon Virtual Edition is to make it possible for everyone to participate in such a special celebration for the 40th anniversary of the Valencia Marathon, even under different conditions due to the COVID-19 pandemic. "2020 is our anniversary year and, even though we cannot run together, as we would like to, we want popular runners to be able to be part of it in a way the situation allows us to," as explained by Paco Borao, president of SD Correcaminos.
Related news