Halfway through 2018, there are already 14,660 and 8,150 entries for the Valencia Marathon and Half-Marathon, respectively
2 July, 2018
The Valencia Marathon Trinidad Alfonso EDP will again bring together thousands of runners from all corners of the world to take part in the city's great Marathon on the 2nd of December. The trial, held by SD Correcaminos (running club) and Valencia City Council, already has over 14,660 entries — a figure up on last year despite the fact that there are still five months to go before the next Marathon. The longer period this year for entries (January to June) is now drawing to an end.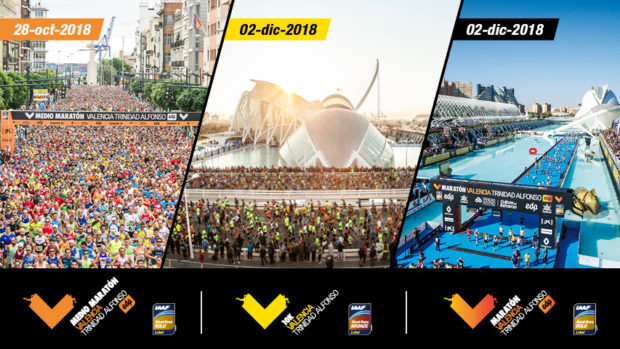 Of those who have entered so far for the race starting from the City of Arts and Sciences, 29% come from the Valencia Autonomous Community. The percentage of runners from other Spanish Autonomous Communities has risen this year to 34%. Competitors from abroad have also grown to make up 37% of the total. The five foreign countries with the most runners are, in descending order: Italy; France; The United Kingdom; The Netherlands; Belgium.
In this 38th edition, both the percentage (18%, two per cent up on last year) and the absolute number of women runners has risen compared with the previous edition. 
The Half-Marathon, stays similar with the change of course
The Valencia Half-Marathon Trinidad Alfonso EDP has 8,150 entries with just under four months to go before Spain's best 21,097.5-metre trial. Most of the runners (55%) are drawn from the Valencia Autonomous Community, followed by those from the rest of Spain (25%), and international runners (20%), the last group being the one that has grown most since entries opened. The Valencia Half-Marathon has also seen a two per-cent rise in the number of women entering for the trial (27%).
The new circuit is even faster this year and shares much of the route taken by the recent World Half-Marathon, which was held in March and where over 14,500 top athletes and amateur runners took part. This means that we can look forward to some great times being set by the thousands of runners who have already confirmed they will take part in Spain's fastest half marathon and an event that also holds the Women's World Record.
The 10-kilometre Race will debut with the IAAF Bronze Label
The 10K Valencia Trinidad Alfonso Race — which will begin at the same point as the Marathon at Puente de Monteolivete (bridge) — continues to chalk up entries and has so far reached 3,600. A maximum of 8,500 running bibs will be issued for the race, which this year debuts with the IAAF Bronze Label.
Related news