The Half Marathon announces the top athletes who will come to fly in Valencia
8 September, 2023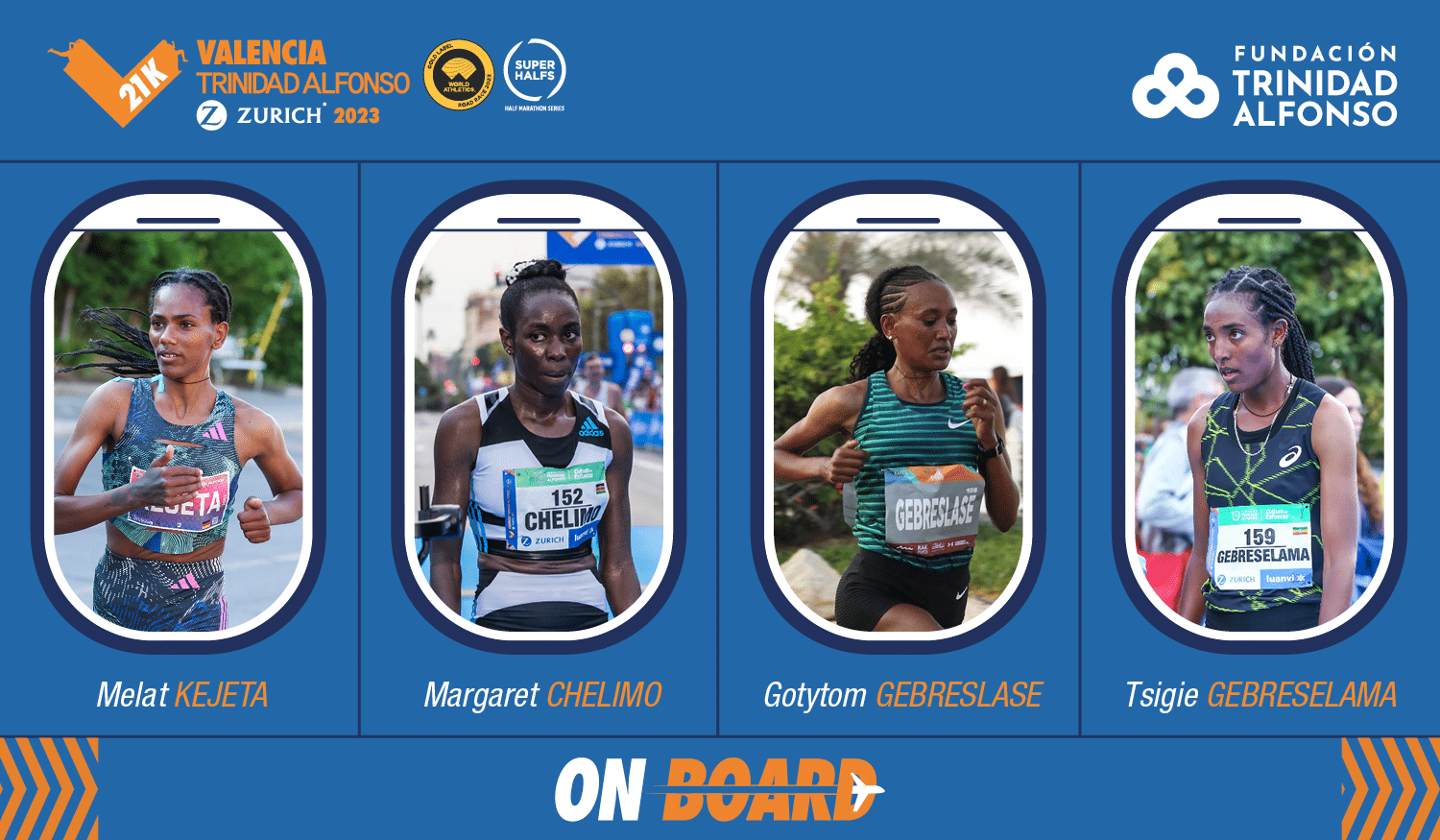 The Valencia Half Marathon Trinidad Alfonso Zurich, organised by SD Correcaminos, is still the world's fastest race over this distance thanks to Letesenbet Gidey's world record (1:02:52, 2021) and it is the second fastest for men, with a time set by Kibiwott Kandie (57:32, 2020). With this high-quality list, the Valencia Half Marathon will count this year with major international elite names who will travel to the city of running on 22 October to fly through its streets.
With the aim of getting as close as possible to the world record achieved in 2021 and to be the world's best in 2023, the women's elite will be led by four athletes with sub 1h06 times, among them Melat Kejeta (GER, 1:05:18), current European record holder over the distance, together with Margaret Chelimo (KEN, 1:05:26), Gotytom Gebreslase (ETH, 1:05:36) and Tsigie Gebreselama (ETH, 1:05:46). In addition, ten other runners with 21.0795-kilometre times under 1h10 complete the initial list of names confirmed to run on 22 October (see table).
In the men's race, familiar faces to the Valencia Half Marathon Trinidad Alfonso Zurich such as former winners Kibiwott Kandie (KEN, 57:32) and Yomif Kejelcha (ETH, 58:32) are among the favourites, together with other runners with times under 59 minutes including Matthew Kimeli (KEN, 58:43), Tadese Worku (ETH, 58:47), Hagos Gebrhiwet (ETH, 58:55) and Sebastian Sawe (KEN, 58:58).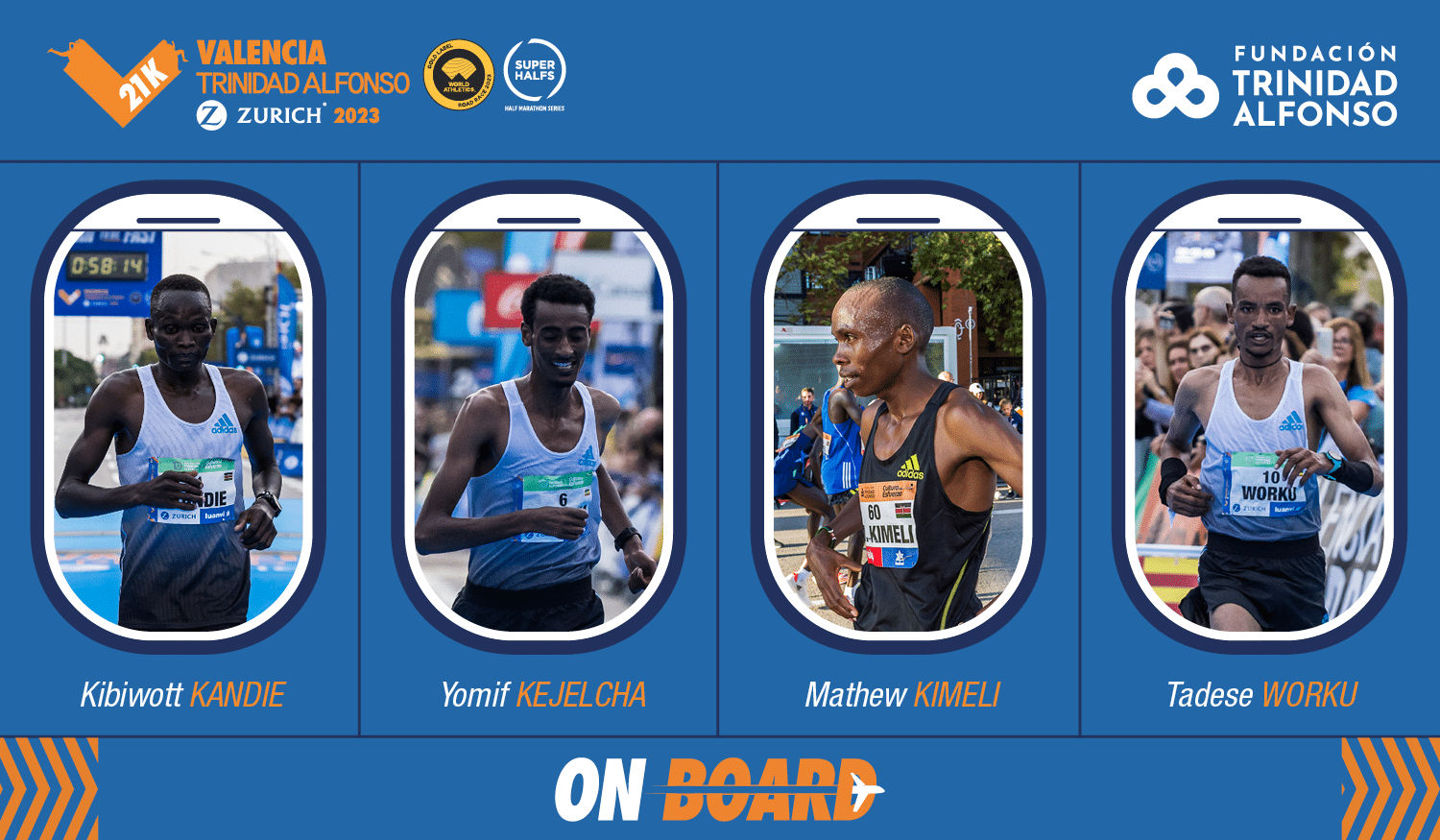 Marc Roig: "We are expecting great records in Valencia"
"Valencia proves that it is, once again, the race chosen by the world elite to beat their records", says Marc Roig, coach of the international elite for the Valencia Half Marathon, who adds that "the return of last year's winners in the men's category is a sign that this race is well liked. We expect some great records, as well as national records and to finish the year with the fastest world record of the year for both men and women".
The revamped route of the Valencian course will continue to offer the opportunity for outstanding performances in a race long established at the top level worldwide, and that continues to be committed to experienced athletes, as well as to young hopefuls and debutants at the distance to maintain the sporting successes, both of international elite and leading national runners, who will be announced in the next few days.
INTERNATIONAL ELITE MEN'S AND WOMEN'S LIST
Kibiwott Kandie

0:57:32

KEN

Melat Kejeta

1:05:18

GER

Yomif Kejelcha

0:58:32

ETH

Margaret Chelimo

1:05:26

KEN

Matthew Kimeli

0:58:43

KEN

Gotytom Gebreslase

1:05:36

ETH

Tadese Worku

0:58:47

ETH

Tsigie Gebreselama

1:05:46

ETH

Hagos Gebrhiwet

0:58:55

ETH

Ftaw Zeray

1:06:06

ETH

Sebastian Sawe

0:58:58

KEN

Nigsti Haftu

1:06:17

ETH

Bravin Kiprop

0:59:22

KEN

Yalemget Yaregal

1:06:27

ETH

Patrick Mosin

0:59:31

KEN

Tigist Gezahagn

1:06:41

ETH

Brian Kwemoi

0:59:37

KEN

Janet Chepngetich

1:06:42

KEN

Hillary Kipkoech

0:59:41

KEN

Samantha Harrison

1:07:17

GBR

Erick Sang

0:59:50

KEN

Alina Reh

1:08:42

GER

Weldon Langat

0:59:55

KEN

Lemlem Hailu

1:08:50

ETH

Laban Kiplimo

1:00:13
KEN

Lauren Hagans

1:09:46

USA

Kelvin Kibiwott
1:00:14
KEN

Mekdes Woldu

1:09:43

FRA

Emile Cairess
1:00:32

GBR

Abbabiya Simbassa
1:00:37
USA
Selemon Barega
1:00:39
ETH
Related news