The Valencia Marathon achieves a new record, selling out all 25,000 running bibs and starting a waiting list
1 July, 2019
The Valencia-Trinidad Alfonso EDP Marathon 2019 Organisers announce that all 25,000 running bibs for the 2019 have been sold out. This is a new record for the number of entries for a marathon in Spain and marks the reaching of the first of the main goals set for the race on the 1st of December 2019 in Valencia Ciudad del Running.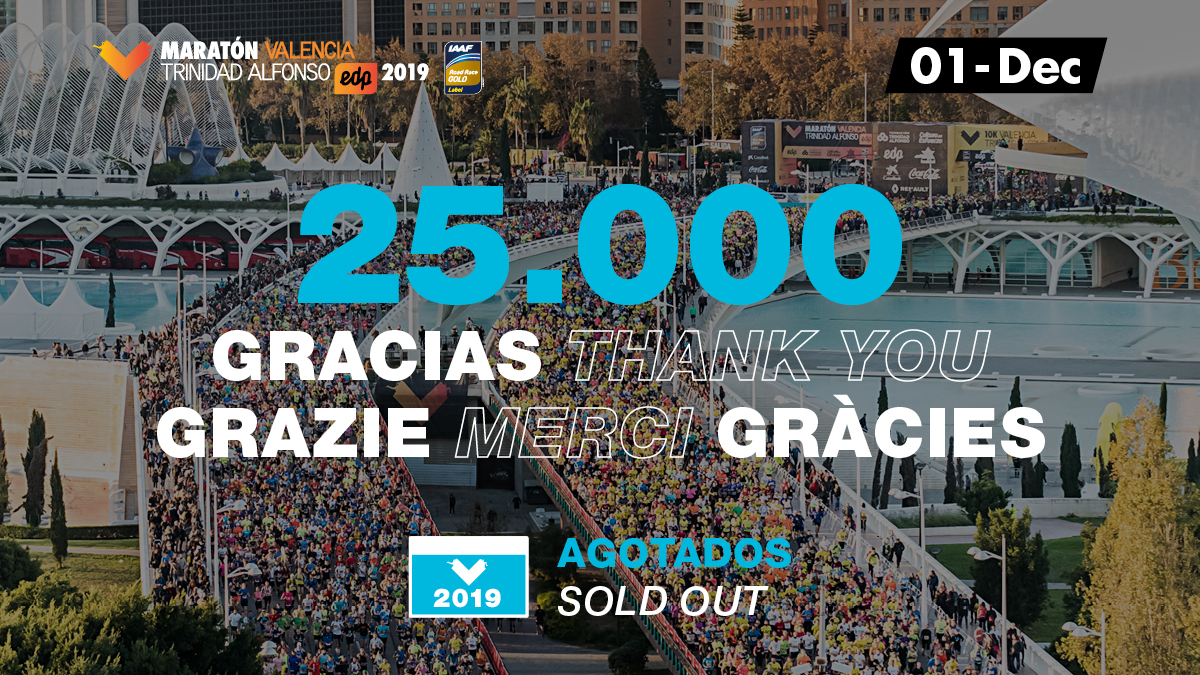 The Organisers of the Valencia Marathon (Correcaminos SD running club and Valencia City Council) are delighted at the pace of entries this year, with all the bibs being sold out five months before the race, despite a rise in the ceiling on entries for this year's edition. The growth in foreign runners this year played a key role in reaching the ceiling on entries so quickly, with no less than 37% of the athletes coming from abroad.
A waiting list for those who still want to compete
With a view to offering the best services to runners, the Organisers of the Valencia Marathon will continue giving entered athletes the option of changing ownership of their bibs in favour of the runner they choose, and of withdrawing from the race with the right to a refund (providing they took out the corresponding insurance policy), or dropping out because of injury (providing a medical certificate is submitted for this purpose).
A new feature this year is that the place of those runners who drop out over the next few weeks will be taken by those unlucky enough not to get a bib earlier. Those wishing to take this last chance to get a bib should sign up for the Waiting List that the Organisers will set up next week for those currently without an entry.
The Organisers will also open a waiting list for those runners who do not have a bib for the 10-km Valencia Trinidad Alfonso Race. The trial will feature the same options for already-entered runners regarding change of bib ownership, insured-covered refund, and withdrawal because of injury. Here, one should note that the last of the 7,000 bibs for the 10-km Race were sold out last week.
Related news