Valencia Half Marathon Trinidad Alfonso EDP presents its new circuit, with the spirit and speed of the last World Championships
25 May, 2018
The Valencia Marathon Trinidad Alfonso EDP and Half Marathon have presented their new courses. These have been redesigned to make the trials even faster. Paco Borao, President of SD Correcaminos (running club), the entity organising the marathon with Valencia's City Council, and representatives of Valencia's City Police Force jointly presented the new circuits. These will not only be faster and easier for runners but will also fit in better with the city's activities on the day for Spain's best marathon and half-marathon trials.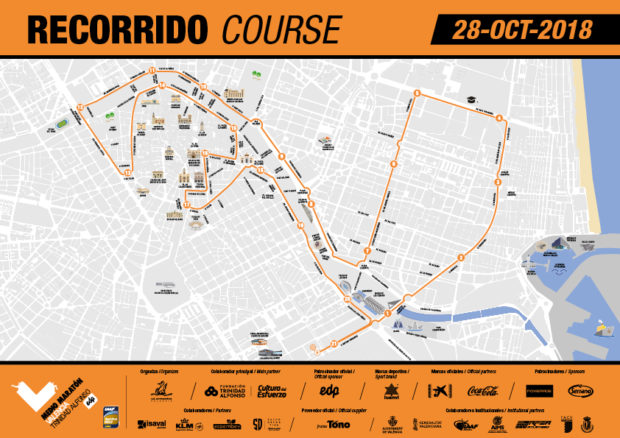 The Valencia Half-Marathon has undergone the biggest changes given that its course has been substantially altered for the 28th edition of the trial, which will be held on the 28th of October. It follows in the wake of the route taken by the world's best athletes and thousands of amateur runners who ran the 2018 IAAF/Trinidad Alfonso Valencia Half-Marathon World Championship. The route will practically be the same as that for the World Championship but the Start will be at Pont de l'Assut de l'Or (bridge).
The route for Spain's fastest half-marathon, (in which Joyciline Jepkosgei set a new Women's World Record of 1:04:51 in a mixed race) will be enhanced by the new itinerary, which cuts down the number of curves on the course from 17 in the last World Championship to 13 for the 2018 trial. This is a big reduction compared with past trials.
[vcr_youtube_advanced url="https://youtu.be/_UdSQaiSTOo" width="1600″ height="320″ autohide="yes" loop="yes" rel="no" https="yes"]
Apart from the advantages of the new route for the thousands of runners taking place in the Valencia Half-Marathon, the new itinerary has been blessed by Valencia City Police Force given that it will make road traffic more fluid in areas where the old route created jams.
[vcr_button url="https://www.valenciaciudaddelrunning.com/en/marathon-news/the-valencia-marathons-cuts-down-the-number-of-curves-in-the-course-to-make-it-even-faster/" target="blank" background="#080606″ color="#ffffff" size="10″ wide="yes" center="yes" radius="20″ icon="icon: mail-forward" icon_color="#ffffff" text_shadow="0px 0px 0px #ffffff" class="boton-vcr-std"]Discover the new course for the Valencia Marathon[/vcr_button]
Related news