Travel with Iberia to the Valencia Marathon and benefit from discounts on your flights
11 June, 2018
One more year, the EDP Valencia Trinidad Alfonso Marathon has renewed its agreement with Iberia to ease the arrival of sports tourism in the City of Running. Thus, all people travelling to València on any flight operated by Iberia airlines with the object of participating in the Valencian marathon will have a 10% discount on the fare of the double event of December 2, 2018.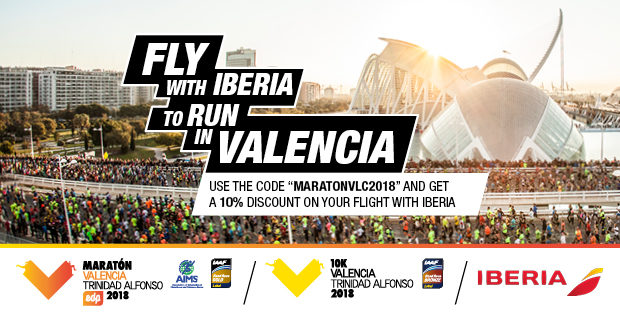 Whatever the chosen fare, this promotion will be applied in the final price for return tickets with destination in València, Alicante and Madrid, from November 26 to December 9, up to seven days before and seven days after the huge event. Both Iberia and the organization, formed by the SD Correcaminos and the València Council, aim to offer the best options of flexibility to runners, so that they will be able to organize their visit in advance, optimize to the maximum their stay and enjoy the city.
The 10% discount will be available on flights purchased until December 1 and will be effective when you enter the code "MARATONVLC2018" in the space called "promotional fare" that appears during the online purchase.
The tourist website www.welcometovalencia.com offers detailed information about the promotion. You can also contact the Customer Service "Welcome to València", coordinated by viajes Transvia, Spain: 96 387 09 95 / Other countries: 0034 96 387 09 95, and the Runner Service: +34 963 940 200.
Main questions

Which flights can benefit from this discount?

Every registered runner and companions will be able to purchase their tickets in Iberia with a 10% discount when travelling to València, Madrid and Alicante, from November 26 to December 9.

How is this discount applied?

This discount of 10% is applied on the sum of the fare, after entering the code "MARATONVLC2018" in the space called "promotional fare" that appears during the online purchase process of Iberia flights.

If I had already bought my Iberia ticket, could I join this promotion?

No, the only option is to cancel the ticket you have already bought and make a new reservation, in order to take advantage of this special fare. We recommend you to previously check if you might be compensated when following this process to benefit from the promotion.

And if I fly to Alicante or Madrid, how do I get to València?

The city of Alicante is perfectly linked with València by train and motorway, and the distance is approximately 180 km. From Madrid you can take the AVE train, buses or private cars.
Related news