The Valencia Half-Marathon presents Luanvi's 2018 shirts for thousands of runners
1 August, 2018
The Marathon, Half-Marathon, and 10-kilometre Valencia/Trinidad Alfonso Race present their shirts for 2018. The shirts share design lines and have a colour range that highlights the three big trials in Valencia — 'The Running City'. The technical garments are again made by the Valencian firm Luanvi, whose quality running shirts are ideal for road races.
The Half-Marathon will be themed in orange
A street plan of the city will also be displayed on the Half-Marathon shirt but this time in orange. Pictures of the Women's World Record winner — Joyciline Jepkosgei with a time of 1:04:51 — the Start Line with over 14,000 runners, and the city centre are shown in the letter 'V', along with the slogan 'València es Medio Maratón' (Valencia is Half-Marathon running).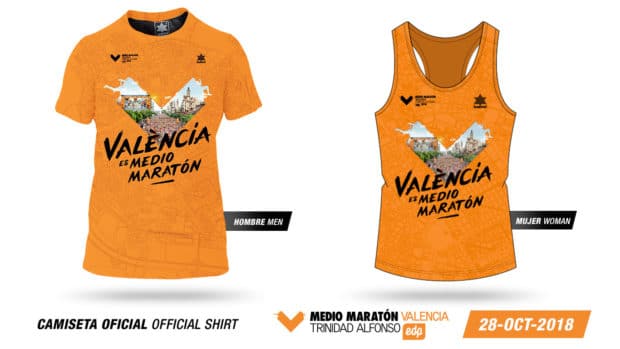 The back of the shirt also shows the official hashtag for the race: #ValenciaEsMedioMaraton, together with a map of the new 21,097.5-metre circuit which will be covered by thousands of runners on the 28th of October 2018.
The Marathon and Half-Marathon shirts share the same design but have different models for men and women. The latter will have straps. Both shirts are made from a multi-thread micro-fibre polyester material specially designed to expel sweat in the fabric's upper layer and thus dry quickly. It is what we call cool-skin technology. The fabric has a solid mesh that gives the garment greater elasticity and makes it softer on the skin. These shirts only weigh 90 grams in the men's model (Size M) and 55 grams in the women's model (Size S).
Related news