The Finishers Medal for the 28th edition of the Valencia-Trinidad Alfonso EDP Half-Marathon
14 October, 2018
Athletes and fun-runners in the 28th edition of the Valencia-Trinidad Alfonso EDP Half-Marathon will run the fastest 21,097.5 metres in Spain on the 28th of October 2018. The circuit is also the world's fastest in the women's category. The circuit has been revamped this year to build on the layout and speed of the last World Half-Marathon Championship held in Valencia. Spurred on by over 35 support points and 1,000 volunteers, runners will battle to set a new record for what is Spain's best half-marathon.
The Valencia-Trinidad Alfonso EDP Half-Marathon rewards finishers' effort and achievement with the following medal. Although Spain's best half-marathon is an unforgettable experience in itself, the medal will be a treasured reminder for finishers of their physical preparation and achievement in completing the fastest 21,097.5-metre circuit in the country. The legend borne on the medal reads 'València es Medio Maratón' (Valencia is the Half-Marathon), the same as that shown on their running shirts.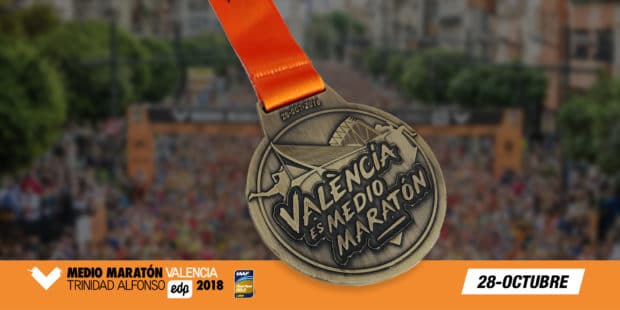 Furthermore, runners can personalise their Finisher Medal with their names and times in the area behind the Finishing Line.
Three ways to personalise your medal:
Before the Valencia Half-Marathon. You can reserve this service before the race online and at the cheapest price by using this link: €5
In the days before the race at the The Runners' Fair. There will be a stand where you can buy a ticket for the medal on Friday the 26th and Saturday the 27th of October for €7
In both cases, you must pick up an accreditation bracelet at the stand at The Runners' Fair.
Once you have finished the race, you can personalise your medal with your name and time at The Runners' Fair marquee. Price: €10
Related news