The "Finish what you started!" campaign encourages over 330 runners to take the path to the Finishing Line once again
18 January, 2018
The Valencia-Trinidad Alfonso EDP Marathon is repeating the "Finish what you started!" campaign to encourage and support all those runners who dropped out from Kilometre 25 onwards in 2017 and did not reach the Finishing Line in Valencia's City of Arts and Sciences.
Effort is always rewarded. We know that is true in the Valencia Marathon. That is why we want to help all runners make their dreams come true and once again take their path to the Finishing Line over the pond in what is Spain's best marathon.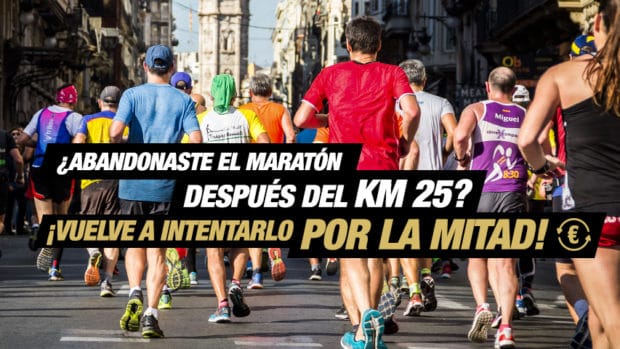 After many months of preparation, intense training and effort to win the coveted 'Finisher Medal' in the 2017 Valencia Marathon, the 331 runners who dropped out from Kilometre 25 onwards in 2017 (when they had already run over half the marathon distance) now have another chance of making their dream come true. On the 19th of November 2017, they began Spain's fastest marathon. We urge them to finish what they started by completing the trial on the 2nd of December 2018.
Through this campaign, the Valencia Marathon encourages the 331 runners who were so near to crossing the Finishing Line in 2017 to cross the tape in 2018 by offering them a 50% discount. All these runners can get the discount up to the 30th of June, so that they have enough time to prepare for the trial and cross the Finishing Line in Spain's best marathon.
[vcr_button url="https://tickets.valenciaciudaddelrunning.com/promo/form-user-promo.php?langPR=es&codPromo=CYZ54VXD" target="blank" background="#D5BA68″ color="#050605″ size="10″ wide="yes" center="yes" radius="20″ icon="icon: arrow-right" icon_color="#181813″ text_shadow="0px 0px 0px #010101″ class="boton-vcr-std"]Get your discount and finish what you started! [/vcr_button]
Remember that you can get your money back for the entry fee if you are injured.
Related news