Luanvi and the Valencia Half Marathon present a T-shirt to take flight in
30 June, 2023
The
Valencia Half Marathon Trinidad Alfonso Zurich
, which is organised by SD Correcaminos, and
Luanvi
, the race's official sports brand, have today presented the official T-shirt that the 22,000 participants in the best half marathon in Spain and one of the fastest in the world will receive. The facilities of the Paterna-based Valencian company were transformed into an improvised aeroplane that "took off" towards the Valencia 21K in what the race has called in its branding for this year's event the Running Airlines, an idea that has also been transferred to the official T-shirt with the inscription on the back of the T-shirt "Mi mejor vuelo" (My best flight). The official technical T-shirt of the Valencia Half Marathon is once again available in the runner's choice of a short-sleeved or tank top option, with male and female versions and in a combination of blue, white and orange. It is made from a breathable, highly elastic mesh fabric containing multifilaments with Cool-Skin technology, which dries sweat quickly and prevents the build-up of moisture. It is a very lightweight garment (a size L T-shirt weighs just 86 grams) and is sewn with flatlock seams to minimise chafing on the skin.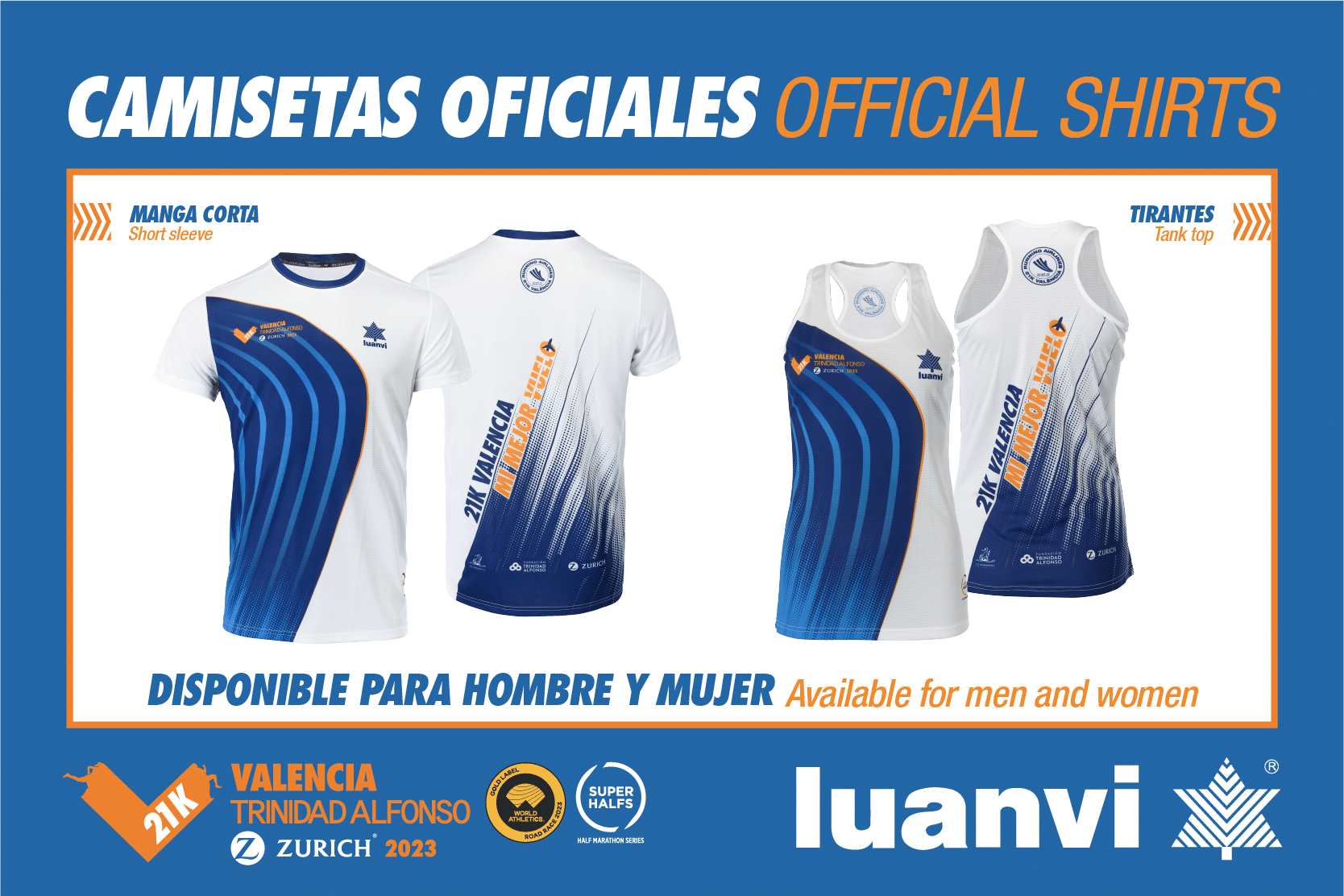 Luanvi President, Vicente Tarancón, explained "we like to work hand in hand with the most important races on the international scene, and without a doubt, the Valencia 21K is a benchmark event. This commitment is reflected year after year in Luanvi's strong commitment to getting the general public involved in running and a healthy lifestyle".
In reference to the race's new official T-shirt, Tarancón declared "thanks to the design of this T-shirt, Valencia will not only be known for being the ciudad del running, it will also be known for being the city where runners take flight".
For his part, SD Correcaminos President Paco Borao mentioned the "stable and long-lasting relationship" between the Valencia Half Marathon and Luanvi, which has been growing for nine years now: "Luanvi is becoming increasingly established in the world of running, not only in Spain, and we, in the Valencia Half Marathon 2023, will have no less than 22,000 runners coming from over a hundred countries".
Finally, Juan Miguel Gómez, director of the Trinidad Alfonso Foundation, the main partner of the race, noted that "Luanvi has been involved in this race for almost a decade and has grown with us. It goes without saying that its T-shirts and products are extremely popular with runners, making it a great partner for the best half marathon in Spain".
Related news