61 qualifiers for the Olympics, 11 national records and 77 personal bests in the 'Great Race of 2020'
11 December, 2020
The results of the Valencia Marathon and Half Marathon Trinidad Alfonso EDP Elite Edition confirmed that it was the 'Great Race of 2020' going even further than the world half-marathon record (57:32) and the impressive new personal best times for the winners in the marathon in both the men's and women's categories, after becoming thethird fastest marathon in the world and achieving the seventh best men's time ever (2h03:00) and fifth in the women's category (2h17:16).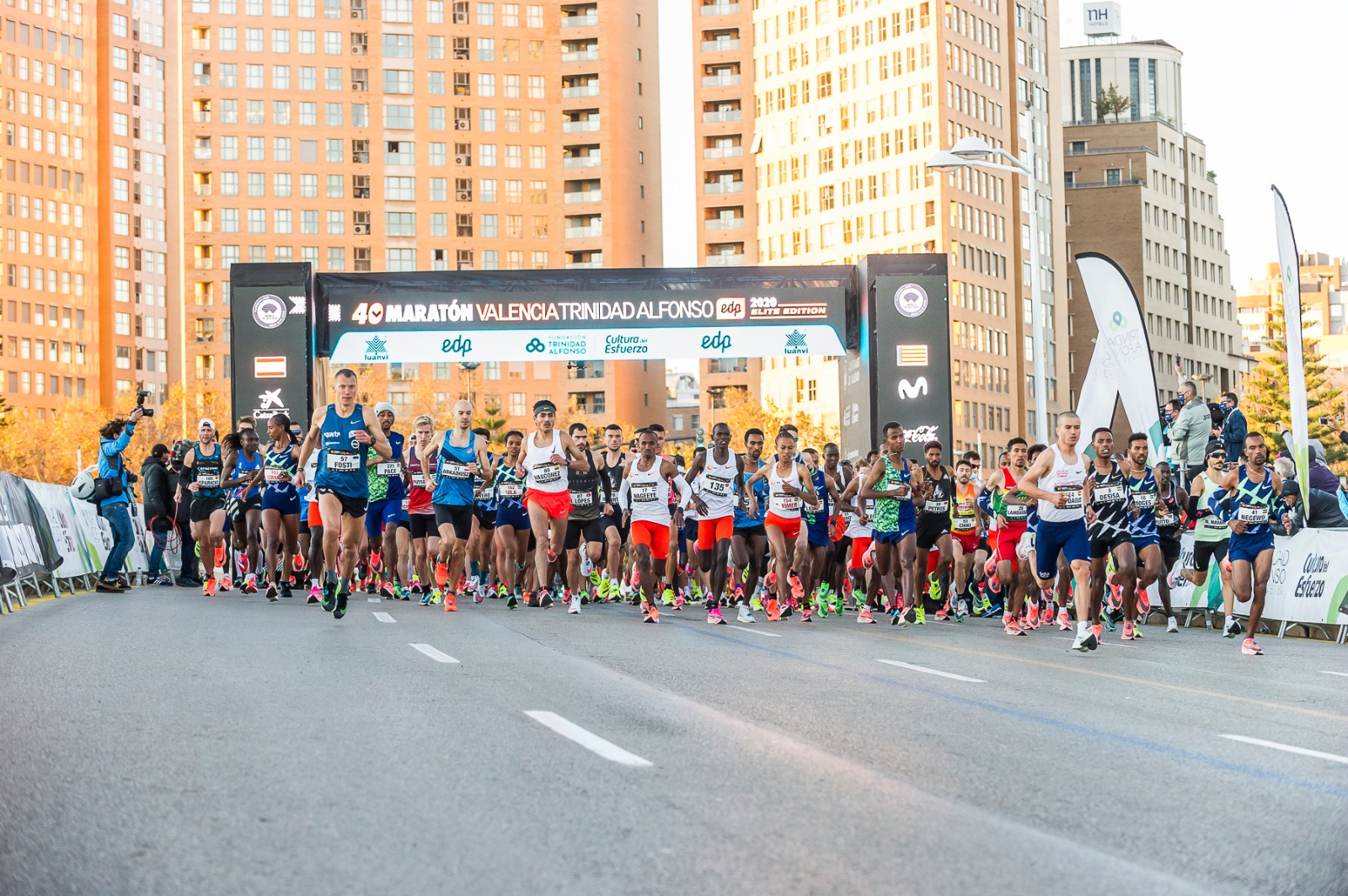 In addition, last Sunday, Valencia City of Running saw up to 61 qualifying times in its streets by male and female athletes allowing them to be able to attend the Tokyo Olympics in 2021. Without doubt a demonstration of the international strength on display in the 42,195-metre race this year.
On the other hand, a total of 11 athletes achieved different national records between the two races, with the clear highlight being the new world record set by Kenyan Kibiwott Kandie and the best time by a Ugandan runner in the half-marathon, in a race that saw four runners below the historical 58-minute barrier (and eight runners under the hour). The marathon, in addition, saw a new Spanish record, along with records for athletes from a further eight countries in both the men's and women's categories.
The best race of 2020
As if all this was not enough, in Valencia on 6 December, a total of 77 athletes achieved a personal best, which confirms that, without a doubt, this was THE 'Great Race of 2020', along with the annual World Athletics' ranking putting Valencia ahead of London and Tokyo, thanks to its excellent results this year. In fact, 10 of the 15 fastest times this year were run in Valencia.
Big Data analysis of the race times from Movistar
All this surfeit of personal bests and excellent records can be analysed in detail using the Big Data and Sports Analytics Unit that Movistar has activated together with the Valencia Marathon as its technological partner. Thanks to the Big Data and Internet of Things Services Unit, it is possible to extract all kinds of information regarding the fastest times achieved during the Elite Edition and compare these results on the website: https://maratonvalencia.com/estadisticas/.
Related news