All 30,000 race bibs for the 42nd Valencia Marathon sell out six months before the race
8 June, 2022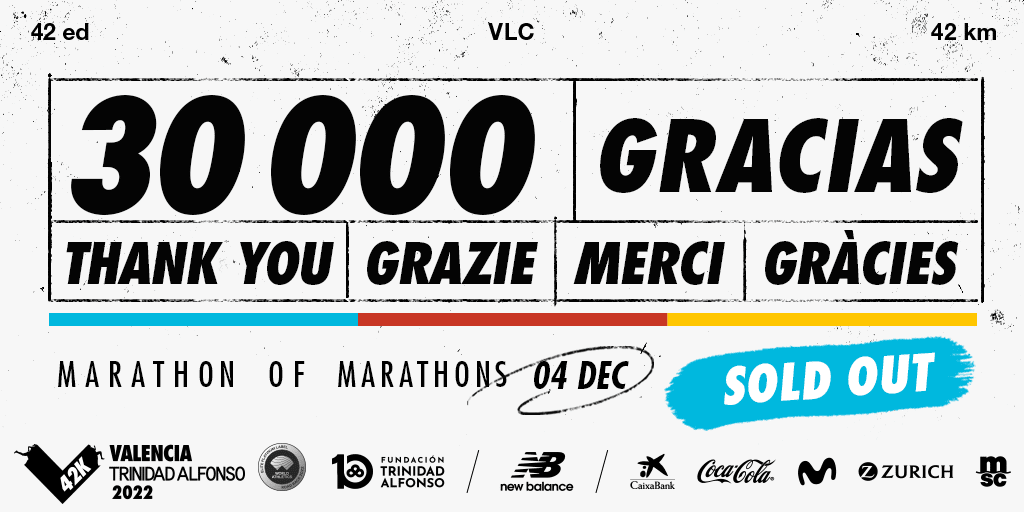 Today, six months before the race, the 42nd Valencia Marathon Trinidad Alfonso has hung up the "no bibs" sign after the 30,000 places available to run in the city of running on 4th December 2022 have become fully subscribed. This is the fourth time in a row that the race, organised by S.D. Correcaminos and Valencia City Council, has sold out the race bibs to participate in the marathon. The first was in 2018, when 22,000 places went on sale, the second in 2019, with 25,000, and the third in 2020, an event that could not take place due to the pandemic, but which sold out three months after opening the 30,000 registrations for the race. In 2021, the Valencia Marathon held a race with limited participation due to COVID restrictions in which registrations from the previous year were carried over. "This year everything is back and we are very happy to be able to say that there are no bibs left, because it shows that runners continue to trust us", explained S.D. Correcaminos President Paco Borao, and he added, "we hope to celebrate this special 42nd race with a grand festival of running". Of the 30,000 participants registered for the marathon, 48% are foreigners, with a total of 115 different nationalities represented to date. In addition, 28% of the runners are from the Comunitat Valenciana and 24% will come to the city of running from other communities across Spain. In addition, 19% of entrants are women, which means that the number of women participating in this major event is gradually increasing, both as a percentage and in absolute terms, as the number of bibs available has also risen. Finally, more than 6,000 participants (21%) have chosen the Valencia Marathon and its fast and flat course to make their debut over the distance. The increase in the number of race bibs available for runners, as well as in the sales of other products associated with the Marathon, is allowing the event to increase the percentage of its income that comes from registrations. For the first time, this is bringing in close to half of its budget, thus helping the sustainability of the event, which is an objective actively sought by the Trinidad Alfonso Foundation.
Waiting list to cover cancelled registrations
For runners who still wish to participate in the race, a waiting list has been opened to handle their applications, which will be covered as and when registered runners apply to withdraw from the race due to injury or by making use of the refund insurance if they took it out when registering for the race.
The full Premium Registration experience
In addition, runners who wish to enjoy the complete Valencia Marathon experience can still purchase their
Premium Registration
, making the event a total VIP experience. Premium Registration includes the race bib and a range of extra services, some of them exclusive, such as access to the VIP area for the runner and their companion, an official photo at the finish line and a changing room after the race. More info on this link:
Related news