Valencia Half Marathon beats its finishers record with more than 19,400 crossing the finish line
30 October, 2023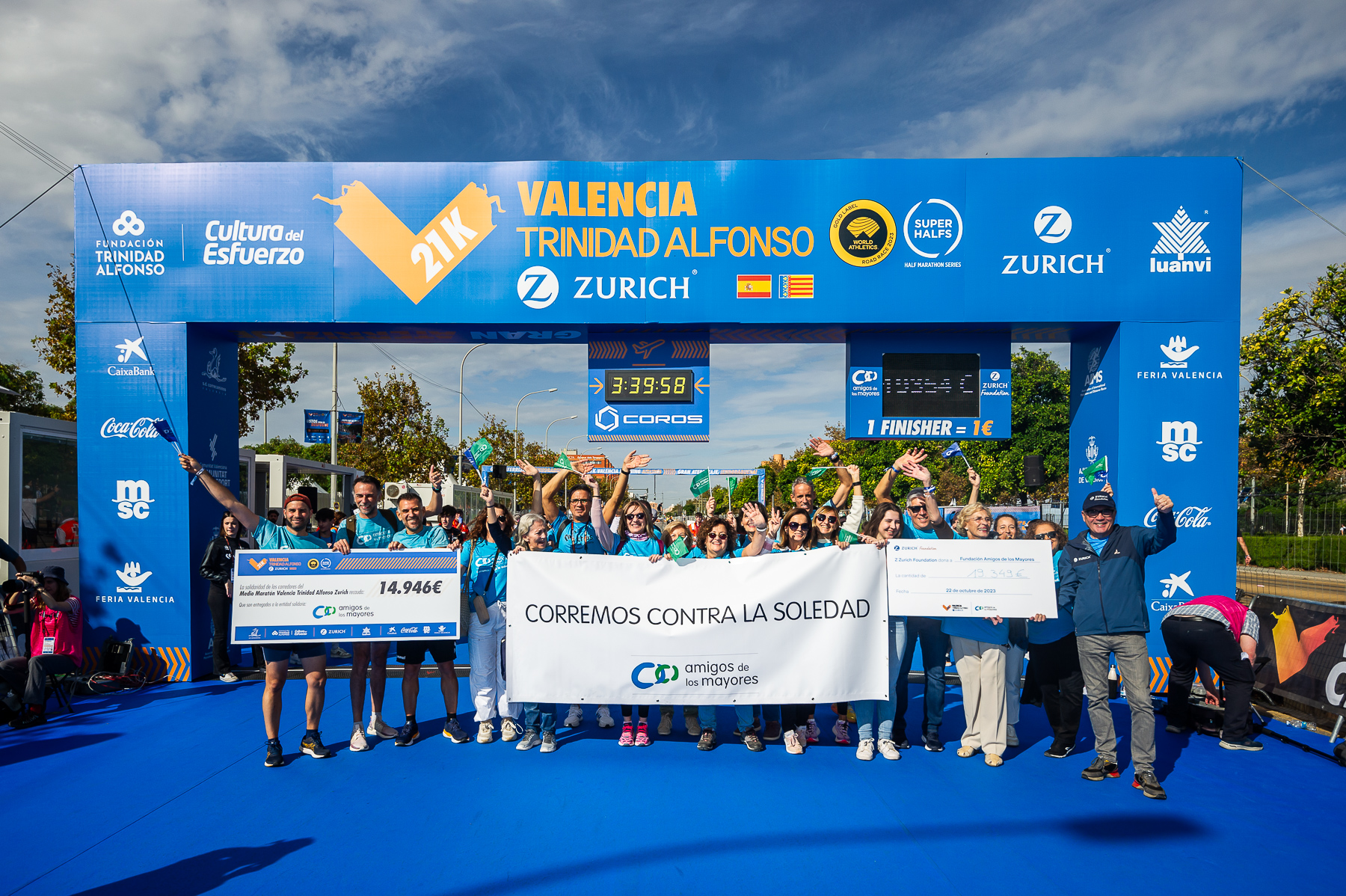 On Sunday, the Valencia Half Marathon Trinidad Alfonso Zurich beat a third record in addition to the two Spanish records, that of the number of runners crossing the finish line after running its 21,097.5 metres. The 32nd Valencia Half Marathon saw more than 19,400 finishers, which is a historic figure not only for the Valencian race, but also in Spain. Just a year ago, the Valencia Half Marathon managed to break the 17,000 finishers barrier and this year it has improved on that figure with more than 19,420 finishers (at the close of the first provisional ranking).
On a sensational day for running in Valencia Ciudad del Running, the participants, representing 107 different nationalities, took full advantage of the fast, revamped Valencia Half Marathon course and the encouragement provided by the 62 cheering stations distributed along the route that were organised by the race sponsors, clubs from the ciudad del running and falleras groups, who participate in the Running Fallero cheering activities, coordinated together with Junta Central Fallera
Another record for donations thanks to the Z Zurich Foundation
The finishers record has also had a positive impact on the race's charitable causes, as the Z Zurich Foundation, a foundation run by Zurich Seguros, this year launched its initiative to donate €1 for every runner who crosses the finish line, so Amigos de los Mayores, this year's race charity, will receive a cheque for €19,420, in addition to the voluntary donations given by runners during their registration, which amounted to €14,946. The joint contribution from the Z Zurich Foundation and the runners also represents a new all-time record for the best half marathon in Spain.
Illustrious runners: Rosa Mota's record and débuts for Mazón and Beitia
The Valencia Half Marathon included the presence of some "illustrious" runners such as the Portuguese athlete Rosa Mota, the only person in history who has been Olympic, World and European Marathon champion, and who today has unofficially broken the World Masters Athletics 65 age category record with a time of 1:26:13.
Also crossing the finish line of the best half marathon in Spain was the president of the Generalitat, Carlos Mazón, who completed the course through the ciudad del running in 1:52:57. He was joined by former athlete Ruth Beitia, who made her début at this distance with a time of 2:00:01.
Related news