Valencia – Germany, a direct connection in Marathon and Half Marathon
7 May, 2014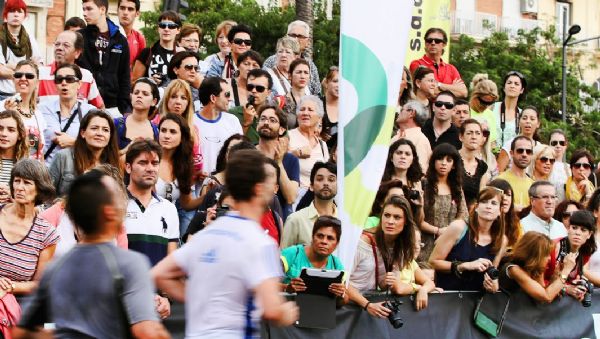 he Trinidad Alfonso Valencia Marathon and Half Marathon are events already known among European runners. British, French, Portuguese, Belgian, Dutch and especially Italians know very well these races and they come back every year to our city and recommend it to their teammates, family or friends. This knowledge is based on the great work done at runner exhibitions in some European marathons and our competitive and sports mise-en-scène which has shown the city to worldwide runners.
Thanks to the great success, the team of Valencia Ciudad del Running, which includes the Trinidad Alfonso Valencia Marathon and Half Marathon, has decided to strategically expand ties with other European regions that can attract new runners to our races, showing the excellence of the event and the city. This is a challenge that this time leads us to the German runner.
With our presence at the prestigious Hamburg Marathon Exhibition, the Trinidad Alfonso Valencia Marathon maintains its commitment to international growth. Germany also lives this passion for running and has become an ideal place to attract international runners during 2014.
Valencia connections to Germany main airport, Frankfurt, which have increased few days ago with new flights of Lufthansa, together with the attractiveness of the city and the weather, which will be truly appreciated by German runners who may find difficult in November to find races without suffering from the harshness of the cold weather, may offer to Valencia a very attractive market segment similar to the one that the marathon already has with Italy which brings to the event about 1,000 participants.
In a preliminary assessment, the results of the presence of Valencia Ciudad del Running at Hamburg Marathon have been more than satisfactory. We have come into contact with dozens of clubs across Germany and the staff of the organisation has answered individually all questions from runners interested in the races of the city of Valencia, who were also impressed by the fast route, the weather, the entertainers who encourage participants…
Until the conclusion of the two races we cannot consider the effects of these actions, but what is evident, taking into account the number of foreign registrations and results at exhibitions such as in Hamburg, is that the number of followers in Europe is increasing at the same rate as it has done in the Comunitat Valenciana and the rest of Spain.
Related news