The Valencia Marathon sets a ceiling of 25,000 running bibs for the race on the 1st of December 2019
17 December, 2018
The organisers of the Valencia Marathon Trinidad Alfonso EDP have announced that there will be a ceiling of 25,000 participants in the race on the 1st of December 2019. The ceiling is 3,000 higher than in the previous edition, which closed entries two months before the trial. The 2018 Marathon set a new record in Spain for the number of runners finishing the trial, with no fewer than 19,241 crossing the Finishing Line.
After analysing the figures during the event and keeping in mind that the safety of participants and the quality of services to runners are paramount, it was decided to raise the ceiling for entry numbers. Accordingly, the ceiling was raised to 25,000 runners for what is Spain's best trial over this distance.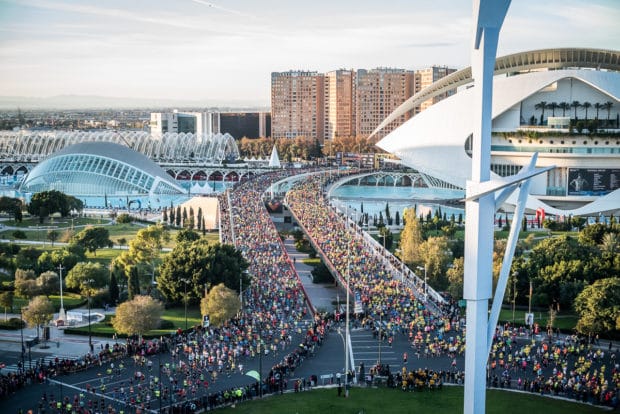 The Valencia Marathon will raise the number of running bibs available. By contrast, the organisers (SD Correcaminos (running club) and Valencia City Council) have decided that the ceiling for the 10-kilometre Valencia Trinidad Alfonso Race (for which entries opened at the same time as those for the marathon) will be lowered to 7,000 runners in 2019. Thus the increase in runners taking part in the 2019 Marathon will be offset by the reduction in those taking part in the 10-kilometre Race. This measure will ensure security and quality service at moments of peak attendance, namely during The Runners' Fair and arrival at the Start.
3,000 marathon runners have already entered for the trial
Entries for the Marathon have been open for weeks. Spurred on by the special offer rewarding 2019 runners who took part in the 2018 Marathon, over 3,000 athletes have signed up in just two weeks.
[vcr_button url="https://secure.valenciaciudaddelrunning.com/tienda/promo/form-user-promo.php?langPR=es&codPromo=604S9UYL" target="blank" background="#080400″ color="#ffffff" size="10″ wide="yes" center="yes" radius="20″ icon="icon: hand-pointer-o" icon_color="#ffffff" text_shadow="0px 0px 0px #ffffff" class="boton-vcr-std"]Run again, with a discount, the Marathon in 2019[/vcr_button]
[vcr_button url="https://www.valenciaciudaddelrunning.com/maraton/inscripcion-maraton/" target="blank" background="#080400″ color="#ffffff" size="10″ wide="yes" center="yes" radius="20″ icon="icon: chevron-circle-right" icon_color="#ffffff" text_shadow="0px 0px 0px #ffffff" class="boton-vcr-std"]Enter the Valencia Marathon [/vcr_button]
Related news