The Valencia Half-Marathon has already reached 3,200 entries of the ceiling figure of 17,500 running bibs
7 January, 2019
The organisers of the Valencia-Trinidad Alfonso EDP Half-Marathon have announced that there will be a ceiling of 17,500 runners for the next trial, to be held on the 27th of October 2019. This is two thousand places more than in the previous edition, when entries ran out almost two months before the race.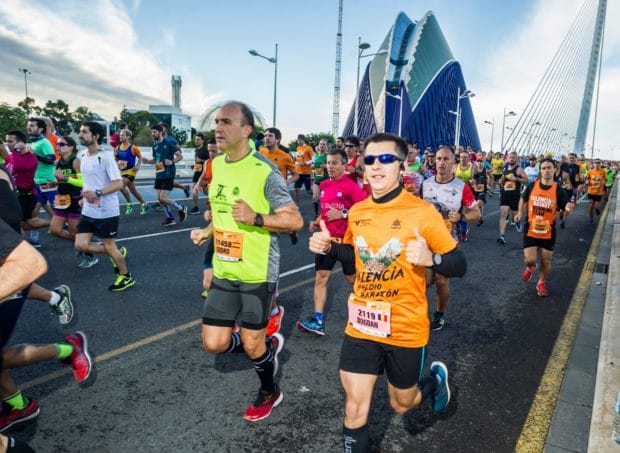 As with the Valencia Marathon, the organisers of the Half-Marathon have decided to raise the ceiling on entries for the 2019 race. In both cases, the decision was taken after careful analysis of the numbers of runners taking part and how the races unfolded. In raising the ceiling, the organisers bore the need to maintain service quality and public safety firmly in mind. Accordingly, a ceiling of 17,500 runners has been set for the 2019 Half-Marathon. The trial is Spain's best race over this distance. It is also the first half-marathon to be awarded the IAAF Gold Label in Spain.
The Valencia Half-Marathon 2019, which is organised by SD Correcaminos (running club), had already reached 3,200 entries by the 31st of December 2018 — the date marking the entry deadline for the 'loyalty discount' granted to runners who took part in the 2018 trial. Here, one should recall that the 2018 Half-Marathon set a new record for both the number of entries (13,794) and runners completing the 21,097.5-metre course (the world's fastest and which set new men's and women's world records).
[vcr_button url="https://www.valenciaciudaddelrunning.com/medio/inscripciones-medio-maraton/" target="blank" background="#F68D2E" color="#1d1616″ size="10″ wide="yes" center="yes" radius="20″ icon="icon: chevron-circle-right" icon_color="#1d1616″ text_shadow="0px 0px 0px #ffffff" class="boton-vcr-std"]Enter the Valencia Half-Marathon 2019[/vcr_button]
Run Spain's best races
This year, the organisers of the Valencia Half-Marathon and Marathon trials will repeat the option of running in Spain's best two trials as ranked by the Royal Spanish Athletics Federation (RFEA) with a bargain promotional pack priced at just €70 for both races. This pack will be on sale up until the 30th of June 2019.
[vcr_button url="https://secure.valenciaciudaddelrunning.com/#/ES/pack/KZRU5g" target="blank" background="#1a1715″ color="#ffffff" size="10″ wide="yes" center="yes" radius="20″ icon="icon: chevron-circle-right" icon_color="#ffffff" text_shadow="0px 0px 0px #ffffff" class="boton-vcr-std"]Entry Pack for the Half Marathon and Marathon[/vcr_button]
Related news