Seven new national records in a Valencia Marathon with great performances by the elite
7 December, 2021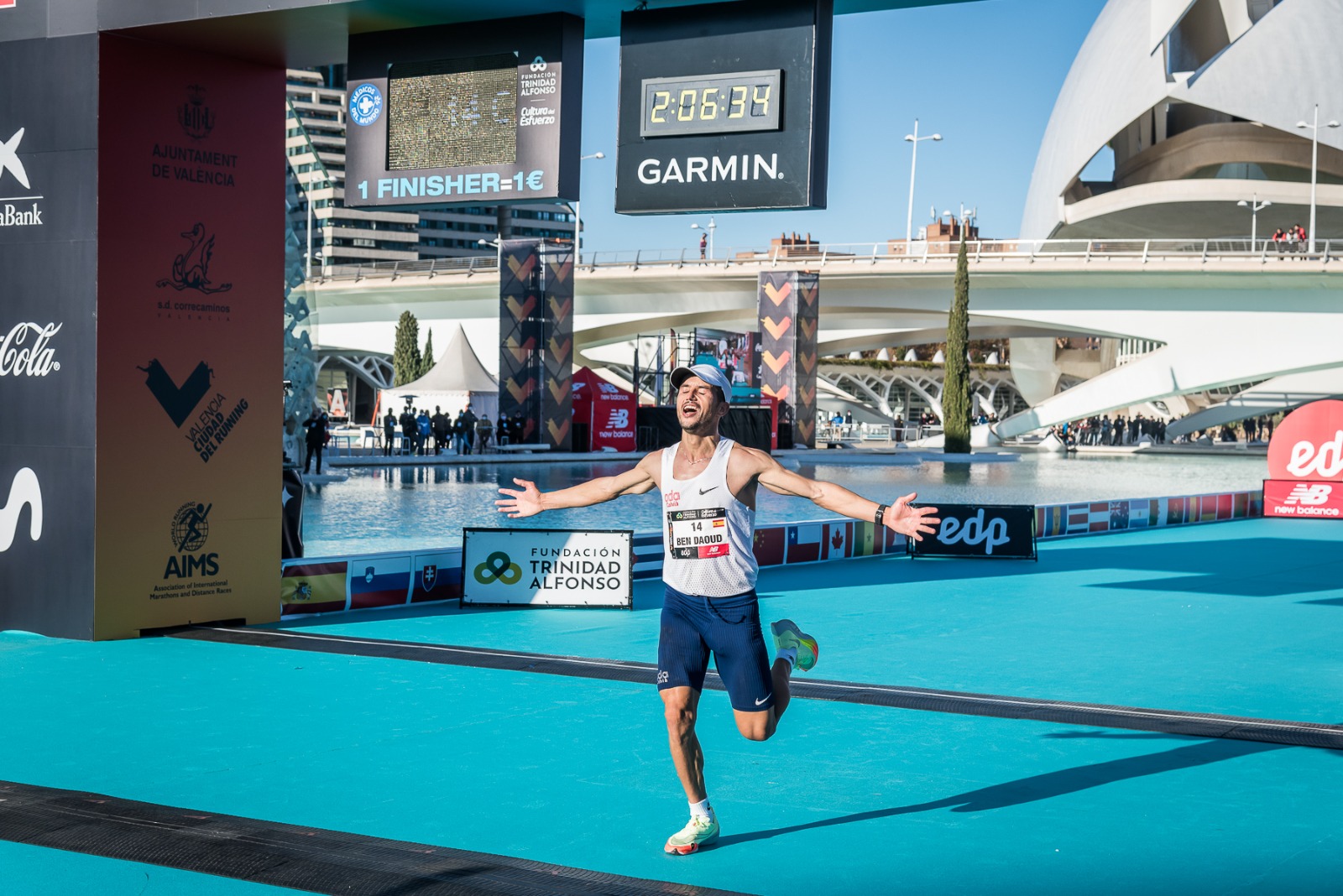 The Valencia Marathon Trinidad Alfonso EDP has once again achieved some spectacular times among the elite despite the fact that the weather conditions prevented the race from setting new records due to the strong wind that lashed on the day. In any case, in addition to the performances of the winners Lawrence Cherono (2h05:10) and Nancy Jelagat (2h19:31), other important results were achieved, such as six new national records.
Besides the special singularity of the Spanish record, which Hamid Ben Douad now shares with Ayad Lamdassem (Valencia, 2020) by achieving exactly the same time (2h06:35), the new national record of Germany was also beaten at the new finish line of the Valencia Marathon. Amanal Petros lowered his own record set last year in the city of running, setting a time of 2h06:27 (compared to the 2h07:18 he registered twelve months ago).
Another great runner was Joaquín Arbe from Argentina, who stopped the clock at 2h09:34, which is 23 seconds less than the previous Argentinean best. Also Ka Man Gl's time was another national record for Honk Kong. Another runner who beat his own record was Soh Rui Yong, who lowered Singapore's national record in Valencia to 2h22:59.
In the women's race, Paola Bonilla ran the Valencia Marathon in 2h27:37, which is 20 seconds off the previous Ecuadorian record. Mandana Nouri improved on Iran's previous best, which she also owned, clocking 2h45:22.
Density of great performances in Valencia
In addition to this series of new national records, the professional runners and the fastest runners in Valencia achieved times that can be summed up in 24 runners under 2h10. 77 runners finished under 2h20 and up to 211 under 2h30. In the female category, the winner Jelagat went under 2h20, which was the goal of the race, but an impressive total of 19 women also crossed the finish line with times under 2h30.
Densidad de grandes marcas en València
Además de esta serie de nuevos récords nacionales, los corredores profesionales y los más rápidos en Valencia lograron unas marcas que se resumen en 24 corredores sub 2h10, 77 entradas en meta por debajo de 2h20 y hasta 211 rebajando el listón de 2h30. En féminas, la ganadora Jelagat bajó de las 2h20, que era el objetivo de la prueba, pero un total de 19 mujeres entraron en meta con tiempos inferiores a 2h30.
48 mínimas para el Mundial de Atletismo
En este Maratón Valencia las marcas conseguidas por los atletas profesionales también han certificado un total de 48 mínimas para el Mundial de Atletismo que se celebrará el próximo verano en Eugene, Estados Unidos.
Related news