Tips on refreshments
Tips on nutrition and liquid intake
The 39th Valencia-Trinidad Alfonso EDP Marathon will be held on the 1st of December 2019. We want to make sure that you safely complete the trial.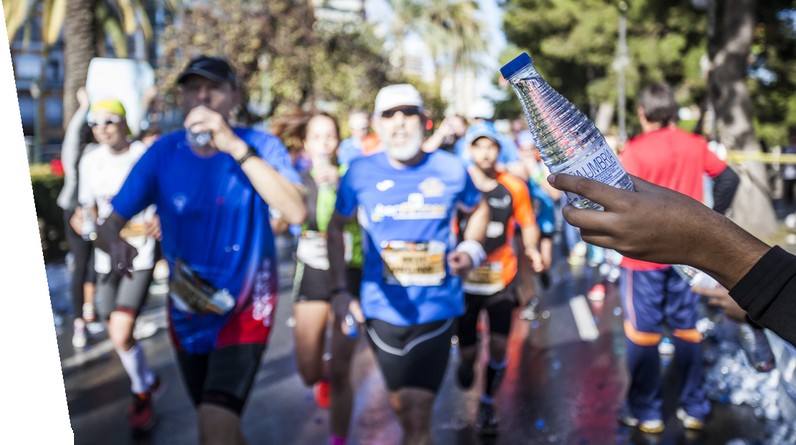 To run in the Marathon and complete the 42-kilometre circuit, you must not only have followed the whole training plan and a healthy diet, you also need rest. In addition you should also take your nutrition and liquid intake needs into account during the race itself.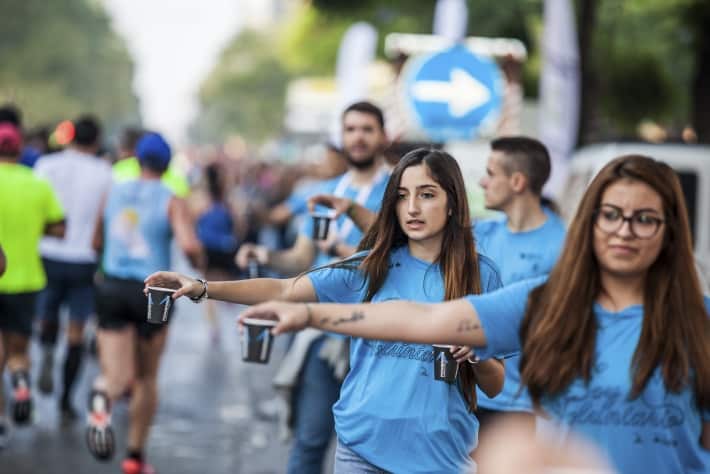 During the race, runners will find no fewer than nine points along the route serving liquid and food refreshments. They are sited at 5-kilometre intervals (plus an extra one at Kilometre 37.5), plus at two special points providing gels (at approx. kilometres 19 and 29.At all of the Valencia Marathon refreshment points, you can get sealed bottles of water (33 cl.) and beakers/bottles of Powerade – an isotonic drink(15 cl.).There will be a special liquid and solid refreshment point at the Finishing Line.
Nutritional Information for the race
Below, we provide nutritional information by unit so that a runner knows exactly how much carbohydrates he or she is consuming during the race. This information is much more important than you think.You will need to drink the right quantities during the race and right from the first refreshment point, as well as take in mineral salts and carbohydrates. It is vital that you do not miss out any of the refreshment points.You should reckon on an intake of between 30 and 60 grams of carbohydrates each hour.
Drink between 25 and 30 cl. of water at every refreshment point (if possible, little by little rather than all at once).
Remember that the Powerade at each refreshment point contains carbohydrates (approximately 8 grams for each 'slug' in a beaker – roughly 15 cl.). This is in addition to any gel you take.
From the refreshment point at Kilometre 25 to the Finish, there will be fruit at each of this succeeding points — bananas, dried apricots, and apricots.

Bananas: One banana contains about 33 grams of carbohydrates. By the same token, a third of a banana contains 11 grams of carbohydrates.
Dried Apricots: 1 dried apricot (9 grams) contains 5 grams of carbohydrates

At kilometres 19 and 29, Enervit brand gels will be handed out. Each sachet (25 grams) contains 17.8 grams of carbohydrates.
In addition, there will be water, isotonic drinks, and fruit at the Finish to help runners recover.
Other recommendationsMineral salts are important to prevent dehydration. Enervit and Powerade gels contain these essential minerals but we also recommend you take an extra capsule of mineral salts for each hour of the race with at least 20 cl. of water (never just the capsule on its own).Caffeine boosts performance but taking more of it does not help. The equivalent of a coffee before starting the race and no more than two during the race will help you to be more active and perform better (those who do not tolerate caffeine well should be careful because it may cause diarrhoea).
Fernando Ortiz, National Athletics Trainer.