Ecoembes again fosters the recycling of packaging at Valencia's Half-Marathon
9 April, 2018
To foster the recycling of the thousands of plastic bottles, tins, and cartons used during the race and to show off the recycling efforts of over 40,000 runners in Valencia's Marathon, 10-kilometre Race, and Half-Marathon. These are the two aims of the collaboration forged between the Regional Agency (Conselleria) for Agriculture, the Environment, Climate Change and Rural Development on the one hand and Ecoembes (an environmental charity fostering the recycling of packaging in Spain) on the other.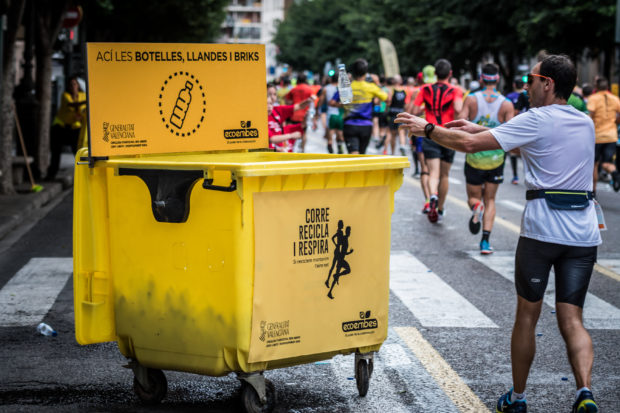 This year's Valencia-Trinidad Alfonso EDP Marathon and the Valencia-Trinidad Alfonso 10-kilometre Race feature collaboration with Ecoembes for the very first time. Ecoembes already collaborates in the Valencia-Trinidad Alfonso EDP Half-Marathon and will do so again this year. The charity manages the recycling of plastic bottles, tins, and tetrabriks (which go into the yellow recycling bins) and paper and cardboard (which go into the blue bins). The new initiative will extend this recycling to Spain's best 21-kilometre and 42-kilometre trials.
Over 100 recycling bins will be rolled out for the races. They will be sited next to the refreshment points, where thousands of runners use plastic drink bottles. There will also be special stands in and around the Finish area to provide information on recycling, boost public awareness of the subject and show how it should be done. On the day before the two trials, volunteers will inform runners and their companions which kind of rubbish goes in each bin.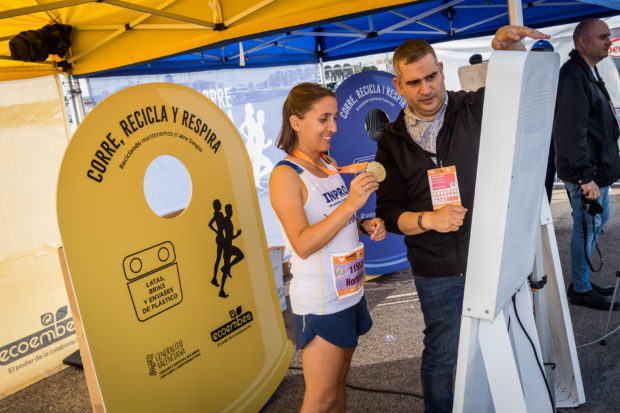 Run, Recycle, Breathe
In the last edition of the Valencia-Trinidad Alfonso EDP Half-Marathon, Ecoembes' collaboration led to the collection of 4,880 kilograms of plastic bottles and cartons, preventing atmospheric emissions of 3,611 kilograms of CO2 the equivalent of 423 hours of emissions from a car exhaust. This year, the target is to at least double the rubbish collected, given that the 42-kilometre trial has more runners and thus generates more recyclable waste.
This year, the campaign (which opened with the Santa Pola Half-Marathon on the 21st of January) will comprise ten trials in which over 180,000 runners will take part. A new feature this year is the incorporation of the Valencia Marathon in this group. The selection criteria for the ten races were efficiency and geographical coverage of the Valencian Autonomous Community (region).
[vcr_note note_color="#f8b828″ text_color="#040404″ radius="5″]About Ecoembes
Ecoembes (www.ecoembes.com) is a charity that manages the recovery and recycling of plastic bottles, tins, and tetrabriks (which go in the yellow bins) and of paper and cardboard (which go in the blue bins) throughout Spain. In 2016, over 1.3 million tons of light packaging (tins, plastic bottles, tetrabriks) were recycled (representing a recycling rate of 76%). This high percentage of recycling prevented the atmospheric emission of 1 million tonnes of CO2 and saved 7 million MWh — equivalent to the annual electricity consumption of 700,000 Spanish households. There was also a saving of 20.1 million cubic metres of water.[/vcr_note]
Related news