The Trinidad Alfonso Valencia Marathon presents its mobile application
11 November, 2015
The Valencia-Trinidad Alfonso EDP Marathon has a smart phone App for the trial so that runners and their family and friends can access all the information on the event.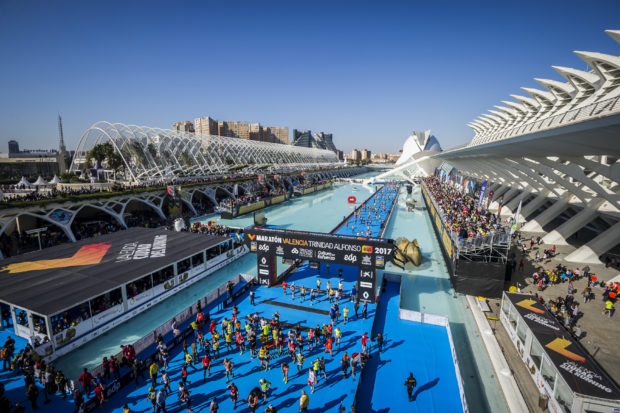 What does the Valencia Marathon App have to offer?
With its simple, attractive, highly-intuitive design, the Valencia Marathon App gives runners and users the most relevant information on Spain's best marathon. Furthermore, it features a countdown clock, the weather in Valencia, and other App features:
Live Tracking
The App lets the user follow the progress of any given runner. Using the live tracking tool, you can track any runner you like in the Marathon or in the 10-kilometre race, as well as see his or her speed.
News about the trial
There is a direct link to the web page to get the latest news on the trial and discover any new features in the marathon you will run on the 2nd of December in Valencia — 'The Running City' .
Map of the course
Discover Spain's fastest marathon (2:05:15, 2017) and all of the details of the best 42,195-metre trials in Spain — as ranked by the Royal Spanish Athletics Federation (RFEA).
The best videos
Take it from us, the Valencia circuit is not only lightning-fast but you will also enjoy every metre of the route, thanks to over 200 support points and an amazing atmosphere that lasts from Start to Finish.
Selfies
The App lets you upload your selfie and share it with the other runners, creating a great atmosphere in the months leading up to the race.
Classifications
Once the race has finished, the App also gives you direct Access to all the Valencia Marathon classifications.
[vcr_note note_color="#f8b828″ text_color="#040404″ radius="5″]The App works on both iOS and Android-based mobile devices and is free.[/vcr_note]
[vcr_button url="https://live.sporthive.com/event/4391″ target="blank" background="#080606″ color="#ffffff" size="10″ wide="yes" center="yes" radius="20″ icon="icon: share" icon_color="#ffffff" text_shadow="0px 0px 0px #010101″ class="boton-vcr-std"]Download the Valencia Marathon App [/vcr_button]
Related news