Valencia Runners' Expo
The Runners' Expo for the Valencia Marathon Trinidad Alfonso will be held in the City of Arts and Sciences. The futuristic setting is an ideal one in which to enjoy the huge party that is the Valencia Marathon. LOCATION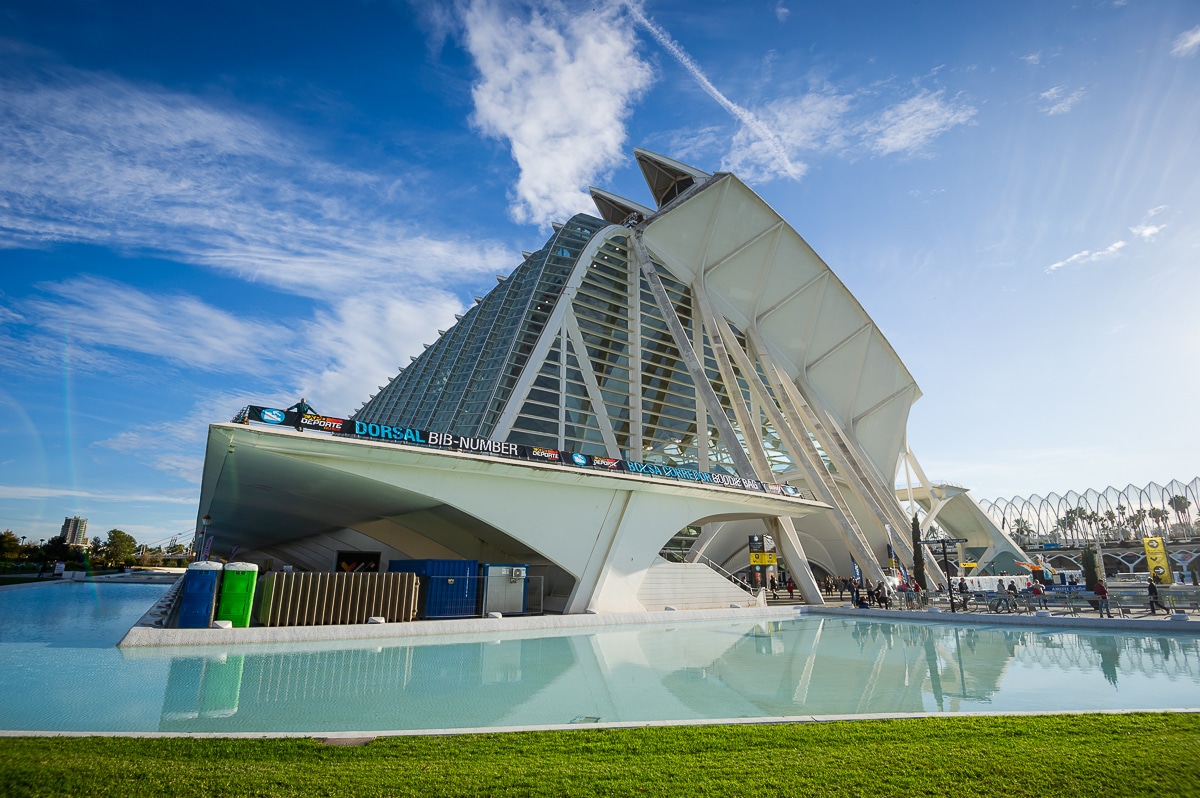 The Runners' Expo is open all day from 9 A.M. to 9 P.M. on Friday 2nd and Saturday 3rd December.
No race bibs or goodie bags will be given out on Sunday.
Access rules
You can visit accompanied by other people.
We recommend you do not visit at the busiest times (12-14h and 18-20h)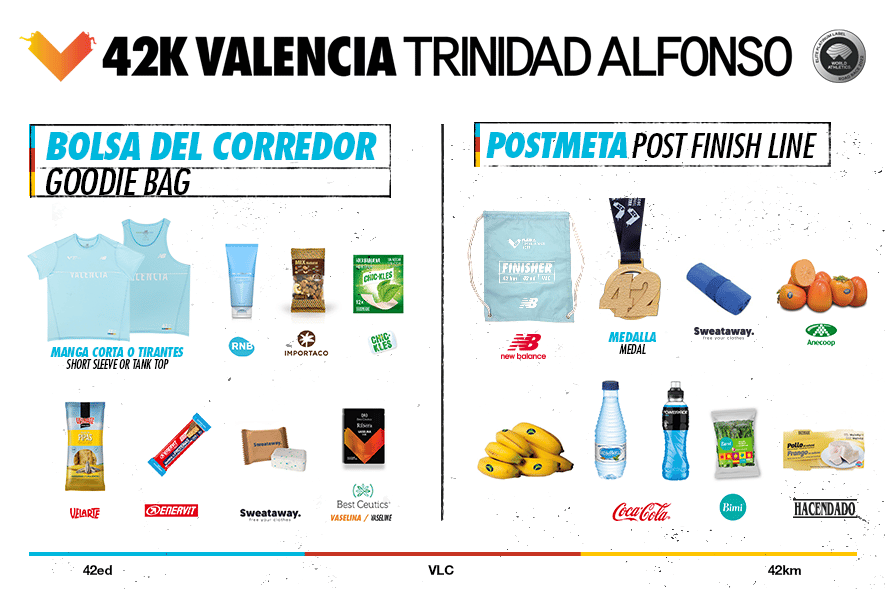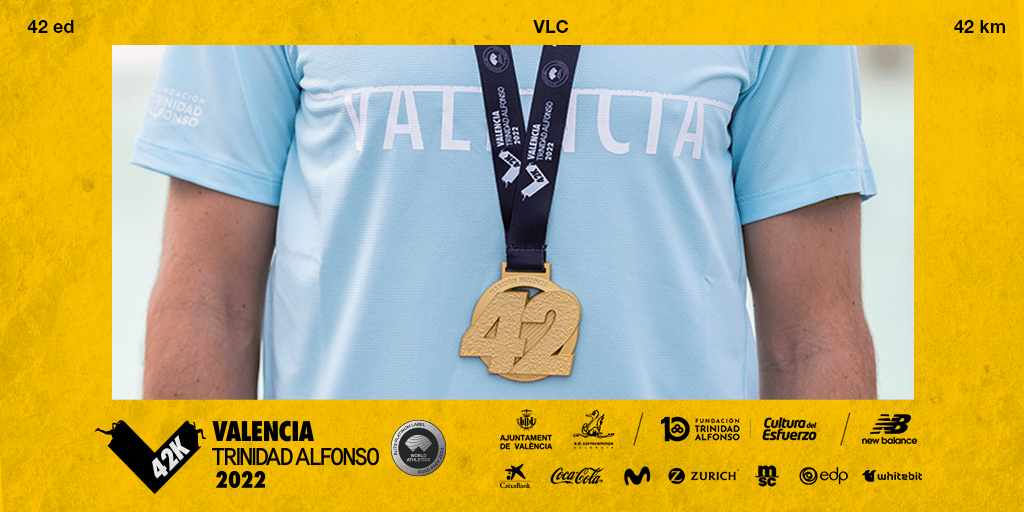 A la Lona de Valencia (mental health project)
"A la Lona de Valencia" is a Project for helping those with severe mental illnesses to find work. Valencia's City Centre Shopkeepers Association (ACCHV) came up with the idea and it was developed by CRIS Velluters and Asociación Rincón de Velluters — two entities helping mental patients on the path to functional recovery. The initiative involves a workshop where the street banners used to advertise the Valencia Marathon and Half-Marathon are donated by Fundación Trinidad Alfonso (foundation) so that they can be turned into designer handbags and other accessories. The final goal is to set up a special job centre for beneficiaries with the support of EULEN Sociosanitarios (health care group).
Balaki
Balaki is more than just a place to get what you need to do sport. We aim to be a hub, a gathering point between clubs, sportsmen/women, amateurs, and fans. By setting up situations and events, we will bring all these groups together to explore their shared love and passion for the sport. In doing so, BA SPORTS seeks to pioneer a new way of forging personal, sporting, and business relationships. The fair will feature discounts of up to 40% off Adidas and Mizuno footwear and textiles.
Benidorm Half
29th February 2020 is the date chosen for the Benidorm Half Marathon and 10km Race. Runners from all over Spain and the rest of Europe will compete in a festive, healthy atmosphere. A sporting experience designed and created by TSB Sport for runners to enjoy its exclusive character and authentic flavour. The races will start at sunset and be accompanied by a host of parallel events covering tourism, sporting, and commercial activities both on Friday and on the Saturday after the races. The race is certified by the Spanish Athletics Federation (FEA). The course is as flat as a pancake and runs through Benidorm's main streets and along the Levante and Poniente beaches. The course is not only scenic, it is also fast, giving runners an excellent opportunity to improve their times.
Bonflex

Bonflex® is a leading brand in the field of caring for and keeping joints, muscles and other soft tissues (ligaments, tendons, and skin) in tip-top shape. The Bonflex range of products includes oral and skin formulations, all of them developed and manufactured in Europe under the GMP seal certifying that they meet the highest pharmaceutical standards.
The City of Arts and Sciences
Compex
Discover the whole range of electro-stimulators, sports protections, kinesiology tapes, new heat/cold therapies, muscle massagers — all available through special offers for the event. Discuss your personal needs at the stand, where a wide range of solutions will be on display. The things we have in store for you are: a free guide on including compex electro-stimulation in your training sessions; the new Fixx 1.0 — a massager that will take your recovery to the next level; muscle-stimulator, protections and accessory packs WITH 35% OFF, all to ensure you train more efficiently and save money at the same time.
Eduardo Miralles - Longfield
Longfield's products are wholly manufactured in Spain. They are locally made so you can be sure they have not arrived in a shipping container from China or Bangladesh. The chances are you will run many more kilometres in our socks than the distance they have travelled from our factories to your feet. Paying close attention to where products come from may not make you a better person but it will help turn you into a more socially responsible consumer. www.longfield.es
EMT
Information on bus lines in the City of Valencia, and on detours and special timetables.
Endeavor
Ours is an innovative, cutting-edge company providing international marathon tours. We cover all the world's best marathons and offer A GUARANTEED RACE BIB and a choice of the best hotels close to the Finishing Line. We advise you on the race, help with warm-up sessions, accompany you to The Runners' Fair to pick up your bib, cover the photo report, and so on. Tailor-made trips for individuals and for groups.
Enervit
You will find a team of experts at the Enervit stand who can advise you on your nutritional needs and recommend a comprehensive strategy for BEFORE, DURING, and AFTER the race to make your participation a success. Among our wide range of products, you will also find the official gel, which will be supplied during the race at the refreshment points.
Epika Sport
The Andorran company OTSO presents its exclusive line of products — the most functional, practical, and innovative on the market. Our products combine design and technology, and you will be pleasantly surprised by our exclusive collections: HEADBAND, incorporating perfect temperature regulation to keep your head cool, sweat-free, and protected from both sun and cold. It is 100% transpirable. Our #OtsoSOCKS multi-sport collection is unique, ultra-light, and with transpirable areas. The socks use seamless fabric, support the foot arch and feature reinforcement at the heel and toes. Once you have bought them, you will never need any others because OTSO socks meet your every need. Last but not least is our star product — #OtsoSHIRT ultra-light, ultra-transpirable, a fabric that is both highly elastic vertically and horizontally, one of the most 'technical' shirts for running free and fresh, combining design, technology, personality, and passion. All OTSO sport products are ULTRA-COMFORTABLE and ULTRA-EXCLUSIVE.
FBR
The FBR concept has revolutionised the world of running with its remarkable invention: THE FLOATING HEEL. It gives the right support for the middle foot and takes advantage of the muscles and tendons' elastic energy, which you use when you run. FBR also strengthens these parts of your body, helping prevent injuries. Accompanied by a model training method, the product helps you get the most out of your training. Come to our stand and try the floating heels out for 5 minutes. You will be amazed by what they can do for your feet.
Generali Milano Marathon
The Generali Milano is Italy's fastest marathon (Men's record 2 hours 04'46'' / Women's record 2 hours 22'25''). The race is on a flat, even circuit, with the Start and Finish at the same point in the centre of Milan. With only a 125-metre positive gradient and 3.1 kilometres of paving (which is very little for a city marathon!), the route lets runners admire the whole city, the sights in the historic centre such as the Duomo, Castello Sforzesco, and Teatro alla Scala, as well as modern, contemporary architecture (such as the Giuseppe Meazza/ San Siro stadium, and the new City Life district). Milan is a much greener city than you might think! Between kilometres 23 and 25, the circuit skirts the Parco di Trenno (park), then, at Kilometre 32, it crosses the enchanting Parco del Portello (park), before ending in a long stretch in the Parco Sempione (park).
Hoka
HOKA ONE ONE® is the world's fastest-growing running brand. The company makes sports footwear for every kind of athlete. HOKA running shoes have stood out from the beginning for their extra-thick half-soles. Our early adopters were top competitors, given the better damping and stability characteristics of the company's footwear. Today's HOKA products are designed to meet running, walking, and fitness needs, and they cater to a wide range of users. There are now sports shoes for road-running, trail running, hiking, and fitness, appealing to runners and exercise enthusiasts who enjoy HOKA shoes' unique performance features. To find out more, visit our stand, visit our website, or follow us on @hokaoneone_eu #timetofly.
Hoko
HOKO is a brand that designs and manufactures all its garments in Spain, using the latest-generation seamless technology. We use high-quality materials (polypropylene and elastomer) to give our garments the very best water-repellent and comfort qualities whether for sports or for everyday use. Our research and development of new fabrics and textiles lets us pursue innovation so we can offer customers an ever greater range of specialised high-quality solutions.
Discover all Hyundai's models, versions and prices on the market. The stand has all the information you need on technical specifications, new features, test drives, and so forth.
Ibiza Marathon
On Saturday 4th April 2020, put your running shoes on to make the most of the #RunAndFeel experience that is the Ibiza Marathon. This Mediterranean paradise will be thronged by athletes from all over the world eager to discover the island and run through its idyllic landscape. There is something for everyone: the full marathon, certified by the Royal Spanish Athletics Federation (RFEA); the 12km Race for a wider public; and the new 21km + 21km Relay Marathon for pairs of runners, each of whom runs one of the 21km legs. The event is the perfect leisure weekend, combining sport and fun for you and partner/friends/club/family. To round things off, there is free entry to the #RunAndFeel Party for all entrants. Do not think twice and sign up now for the Ibiza Marathon — an experience like no other. Discover the island in the early Spring (which is when it is at its best) by signing up today at www.ibizamarathon.com.
Juegaterapia
The Official Charity for the race.
Kamuabu
This is a shop specialising in original, high-quality running shirts and socks, with a variety of distinctive, fun designs. All our goods are manufactured in Spain.
Keep going
Keepgoing — a leading Spanish company specialising in sports nutrition — offers a VALENCIA MARATHON PACK to cover all your energy needs before, during, and after the race. Take advantage of great special discounts on a whole range of products. Also seize the chance to discover the latest products, including our star one — the TriforZa Bar, now in new flavours: cola, lime, lemon, and pineapple.
Luanvi
The Luanvi stand features a wide range of the company's products and all the official clothing merchandising for the trial.
MAPFRE
MAPFRE's stand features a wide range of insurance policies, especially those covering health. Pick up visitor applications at the stand and get a free service covering runner health.
Marathinez
Official Tour Operator for the leading international marathons. We have over 15 years experience in the field and offer guaranteed entries for the 6 Major World Marathons together with tourism packages so all you have to worry about is the running. Get a €100 discount for the 50th anniversary of the NY 2020 Marathon if you sign up before the 31st December.
Maratón Radio
Special live programme on the Valencia Marathon that you can listen to on the www.maratonradio.com website or on its mobile App for iOS and Android.
Ljubljana Marathon
The Ljubljana Marathon is the biggest running event held in Slovenia. Its great international reputation owes much to its postcard-pretty course, which runs through the streets of Ljubljana. The two main races — a marathon (42km) and a half marathon (21km) — are accompanied by recreational runs of varying lengths and degrees of difficulty: a 10km race; a 4km fun-run; a children's run; a half-marathon hand-cycling race. This means there is something for runners of all ages and fitness levels. The Ljubljana Marathon was founded in 1996. It attracts a huge number of runners to the streets of Ljubljana in late October each year and it continues to grow in popularity. In the beginning, it mainly catered to local runners but it soon grew into an internationally-recognised competition. In 2019, all its races brought together over 20,000 runners drawn from 60 countries.
Maurten
The sports nutrition of marathon winners including Eliud Kipchoge, Mo Farah, Bekele, and others. Visit the MAURTEN stand and you can buy the special VALENCIA MARATHON PACK that is designed for you. It contains DRINK MIX 320, GEL100 and the new GEL100 CAF100 with caffeine. In addition we will help you plan your race so you can run like a Pro.
Peñagolosa Trail
The Penyagolosa Trails HG is held from the 17th to the 19th April 2020. The iconic trial in Castellón is now a leading national and international event. After hosting the World Trail Championship in 2018, it is now one of the planet's premier mountain race circuits. Pre-entries for the 20th edition of the MiM (60 km, +3200m) and the new CSP (110 km, +5600 m) are open until 8th December on www.penyagolosatrails.com.
Pies Cómodos
PiesComodos and WrightSock help protect your feet from external factors. You want your feet to KEEP YOU UP AND RUNNING day after day from the moment you get up to the moment you go to bed. Did you know your foot is linked to many of your body's vital organs? If you do not take care of your FEET you are putting YOUR HEALTH at risk. PiesComodos can provide you with the right solution (on sale in pharmacies) with: talcum powders; anti-graze creams; moisturisers; analgesics; foot relaxation creams; arnica oil. We also have treatments for: corns; microbes; bacteria; over-sweating. We also stock special insoles, calf pads, and two-layer system anti-blister socks (awarded the prize as the best sports sock at ISPO 2016/17 in Munich, Germany).
Plátano de Canarias
The Liga Nacional de Running Plátano de Canarias ('Canary Banana National Running League') is Spain's premier running league covering the whole nation. Its classifying races include the country's main half-marathons: Seville, Barcelona, Madrid, Valencia, and San Sebastián — five amazing, unforgettable cities. If you like running and setting yourself a challenge, this is for you. The Canary Banana challenge gives you the chance to make the kilometres you run count more than ever, and offers participants an exclusive, quality experience in each race plus fun activities. Run, discover new locations, share and savour the lifestyle. Get your Super Finisher Medal by completing all the races in the circuit! Get more information at liganacionalrunning.es
Polar
For over 40 years, Polar has been a leader and a pioneer in applying technology to sport, helping athletes and coaches achieve top performance. Polar offers a wide range of products to meet the needs of anyone practicing sport no matter what their standard and physical condition. The following new products can be found at Polar's stand: Polar Vantage Series and Polar Ignite. Get expert advice on which products best meet your needs and goals and get answers to all your questions. Also take advantage of the exclusive discounts that are only available during the Expo.
Raw Drinks
RAW Super Drink is the first wholly organic isotonic drink for sportspeople. It is vegan and suitable for those with celiac disease. The drink was invented to change the way we hydrate when doing sport and is the healthy alternative to other isotonic beverages on the market. The product can be sampled and will be sold at the Valencia Runners' Expo. At RAW Super Drink, we fight to make the world a better place for everyone by respecting the environment and helping athletes look after their body. The drink is available in 4 flavours: mandarin/mango; lime/lemon; strawberry/mint; cranberry /açai berry.
Running Fiz
Come and find the perfect running shoes for you! We offer great discounts on top brands such as: Asics, Adidas, Nike, New Balance, Brooks, Saucony, Mizuno. Don't miss our great 2-for-1 offer — two pairs of running shoes for just €100. Our stand also has a wide range of sports nutrition products and all kinds of accessories. What's more, you can have your photo taken with Martín Fiz at the Runningfiz stand.
SD Correcaminos
Correcaminos SD is more than a running club; it is a family that loves sport. Why do we have a stand at the Expo? Well, we are the Organisers of the race and we want everyone to know who we are, not least because this is the club's 40th anniversary. A group of friends began running together in 1979 and ended up organising races including the Saint Sylvester Race, and the Valencia Half-Marathon and Marathon races. We currently have Athletics, Triathlon, and Orientation and Mountain sections, as well as three schools with over 150 children. The club's headquarters is sited next to the Valencia River and has a gymnasium, body-building section, social hall, changing rooms, and showers. You can enjoy these facilities for just €85 a year. Membership entitles you to discounts on our races, access to our Run and Fun Plan and of course you will get to know all those crazy Valencians — crazy, that is, about running.
Somos Deportistas - SAXX
Our stand features a selection of www.saxxunderwear.com and arch-max.com products, as well as some from other brands. Saxx is your best ally in stopping chafing and friction in men's underwear, thanks to our patented BallPark Pouch, a garment with 9 textile panels and flat seams on the inner side — something that will be your go to accessory in this long-duration race. Arch Max is a Spanish brand that designs and makes all its products domestically. The product range comprises socks, belts with object holders, hydration vests and accessories.
Sporks
Sporcks is a Spanish brand specialising in the manufacture of spectacularly-designed high-quality technical sports socks. Sporcks has three product lines: running; cycling; triathlon. Its wide range of original models give the brand a personality, style and colour all its own. We make the runner, cyclist, or triathlete stand out from the pack, giving them that magic sporting touch.
Sport Different
Ronhill has a 50-year track record and is one of the world's top brands in running textiles and accessories. The firm is Number 1 in The United Kingdom. Its founder, Dr. Ron Hill was the world's second man to break the 2 hours 10" barrier in the marathon. The British brand has been in Spain for 10 years and the technical characteristics and comfort of its garments make it stand out from the pack. The company offers a great range of shorts, racers, 5-inch shorts, multi-pocket packs and carriers, anti-rub tights, caps and belts, among other accessories — all at great discounts.
Sport Óptica
STYRPE is Spain's leading brand for running glasses. Its models are designed to ensure they neither move when running nor apply irritating pressure to the runner's skin. They are made with materials that are perfect for the sport: TR-90, a highly flexible, light, long-lasting material; photo-chromatic, polarising lenses, etc. All our glasses are top-of-the-range products with anti-misting, hydrophobic coatings to stop them fogging up when you are running. Another feature of our glasses is that they can all be graduated either directly or with RX adaptors. At the Sport Óptica stand, you can try out all the models and see which colour combinations are available. You will also get a 20% discount on our products and receive personalised advice. New this year is Styrpe's SOON line, new models with similar features but that are more keenly priced. The affordability of the SOON line makes it ideal for those who are just beginning running as a sport.
Sportmed
Sportmed supplies various brands such as the 226ERS nutrition range, Italy's Rudy Project® glasses, Swedish clothing company Craft Sportswear®, North America's Feetures® socks. Our experts will be happy to show you all our new products for 2020 and the ranges on offer from our partner companies.
Sportravel
Sportravel is a travel agency specialising in trips to international marathons and half-marathons. We run some 30 packages each year and have been active in this field since 2006. Our www.sportravel.es website shows our packages, which include options for bespoke trips, including ones for the World Marathon Majors and events of our own such as The Desert Run.
SuperHalfs
You can find all the information on the SuperHalfs, the new world series that brings together the planet's best half-marathons. The circuit will be inaugurated in 2020 and runners can discover Europe's greatest cities while they run. Lisbon will be the first one and will be followed by Prague, Copenhagen, Cardiff, and Valencia. All these races are superbly organised and have IAAF labels.
Valencia Basket
Valencia Basket joins the Marathon for another year. You can find our basketball club at the Expo on the 29th and 30th November. It is a great stand for all the family, to take part in raffles, and meet the club mascot — PAM. Above all, it is the point where we hand out race bibs and runners' bags. Of course, you can also buy Valencia Basket products and Valencia Basket Running Team shirts at the same stand.
Valencia CF
We at Valencia CF want to help and encourage you to reach all your goals. The Football Club's stand will feature great special offers on our collection of VCF products and sports garments. There will also be activities for all the family and of course the Club's mascot will be with us on the stand.
Zurich Barcelona Marathon
The Barcelona Marathon and Half-Marathon will again flood the city streets with runners from all over the world in February and March. The Barcelona Marathon will be held on 15th March 2020 and its course is one of its main attractions. The course was inaugurated in 2019 and has proven a runaway success, with records for the race being set in both the men's and women's categories. In 2020, it is hoped to set new records with a circuit that both takes in the city's main sights and is lightning-fast. Highlights along the way include: The Sagrada Familia (Holy Family) Church; Casa Batlló; Camp Nou; The Columbus Monument. The Half-Marathon will be held on 16th February 2020. Last year's race racked up a record number of runners with some 19,000 entries. The course is world famous for the Women's World Records set by the Kenyan athlete Florence Kiplagat in 2014 and 2015. That is why the race is a must for all runners who want to set a new personal record.
How to get to the Valencia Runners' Expo
1. EMT bus:
These are the recommended bus routes when travelling to the City of Arts and Sciences:
Line 35.
Line 39.
Line 95.
These lines have stops closest to the start and finish area. Other lines with stops near the area are: 1-13-14-19-25-40.
2. Metro València:
Con la nueva línea 10, bajando en la parada Ciudad de las Artes y las Ciencias estarás a pocos metros de la feria del corredor del Maratón.
3. Taxi València:
Cerca de la Plaça de la Marató, lugar de salida de la prueba y al lado de la feria del corredor ExpoDeporte hay varias paradas de taxi para acudir o volver.
4. Aparcamientos cercanos
Aunque no lo recomendamos, si solo puedes acudir en coche a recoger tu dorsal y bolsa del corredor, estos son los aparcamientos más cercanos habilitados.
P1 – Parkings Fuente de San Luis (de acceso libre, no vigilados)
P2 – Parking Oceanogràfic (7€/día enseñando el dorsal)
P3 – Parking Centro Comercial Aqua

Stands in ExpoDeporte Valencia
| | |
| --- | --- |
| Estand | Expositor |
| 1 | Hyundai |
| 2 | Yamaha |
| 3 | New Balance |
| 4 | Zurich |
| 5 | Bimi |
| 6 | Patatas Meléndez |
| 7 | Enervit |
| 8 | WhiteBit |
| 9 | SweatAway |
| 10 | Coca-Cola |
| 11 | EDP |
| 12 | Maurten |
| 13 | A la Lona de Valencia |
| 14 | Decathlon |
| 15 | Garmin |
| 16 | Vithas |
| 17 | Valencia Basket |
| 18 | Zurich Rock'n' Roll Running Series Madrid |
| 19 | Valencia Ciudad del Running |
| 20 | Ronhill |
| 21 | Santa Eulària Ibiza Marathon |
| 22 | Wong |
| 23 | Epika Sports |
| 24 | Hanker |
| 25 | Santa Madre |
| 26 | h2d socks |
| 27 | 226ERS |
| 28 | Sporcks |
| 29 | Sport Óptica |
| 30 | Fixtoe |
| 31 | Kamuabu |
| 32 | Pimiento Negro |
| 33 | PiesCómodos – WrightSock |
| 34 | Movistar |
| 35 | Interesport |
| 36 | SEGAS (Hellenic Athletics Federation) |
| 37 | Ciudad de las Artes y las Ciencias |
| 38 | Colchones para deportistas |
| 39 | TCS Amsterdam Marathon |
| 40 | Hoko |
| 41 | ING Night Marathon Luxembourg |
| 42 | TotalEnergies Maratón Murcia Costa Cálida |
| 43 | Gasol Foundation |
| 44 | Penyagolosa Trails |
| 45 | Maratón Ciudad de México |
| 46 | Ciudad de las Artes y las Ciencias |