A 10% discount on all Renfe tickets to travel to the Valencia Half Marathon and Marathon
19 August, 2021
Travelling at full speed to Valencia to run the Valencia Half Marathon Trinidad Alfonso EDP or Marathon will be easier again this year thanks to the agreement reached by the race organisers with Renfe, which offers a 10% discount for runners and their companions.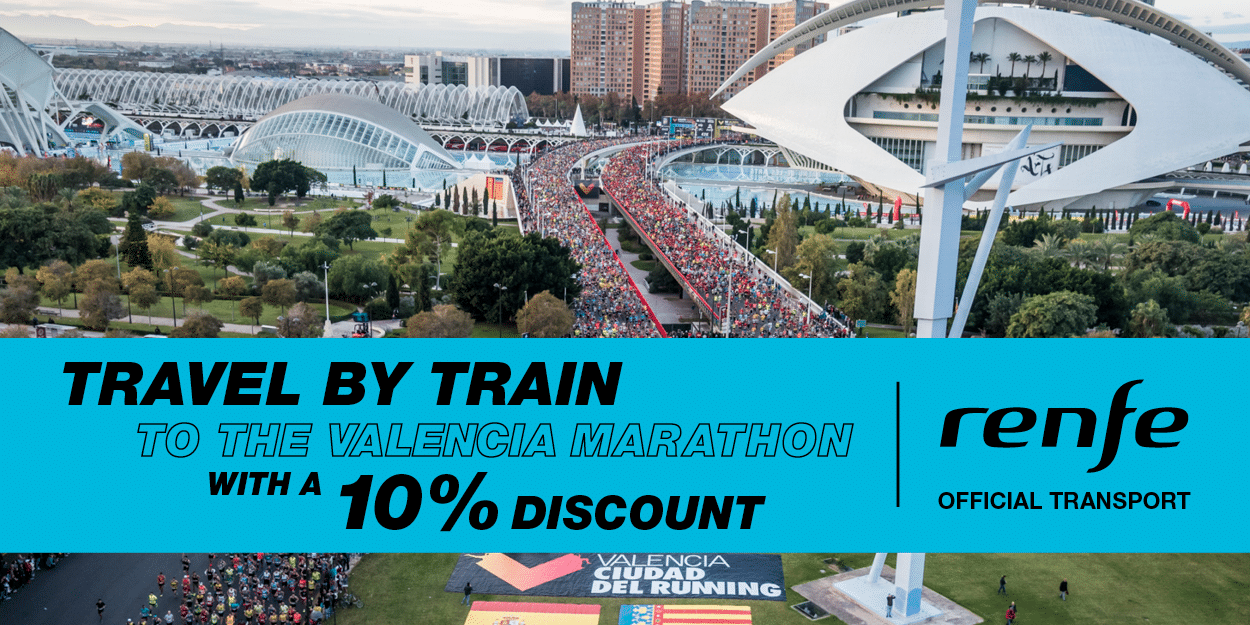 Renfe will activate this promotional discount for the events on tickets purchased to travel to Valencia Ciudad del Running between 20 and 26 October, in the case of half marathon participants, and to travel from 1st to 7th December, for all marathon runners. 
This 10% discount will be activated for any of the available fares (Basic, Elige and Premium) of all AVE and long distance services (AVE, Alvia, Euromed and Intercity) with destination Valencia, in all available timetables during those dates and it is valid for runners already registered in the race and their companions.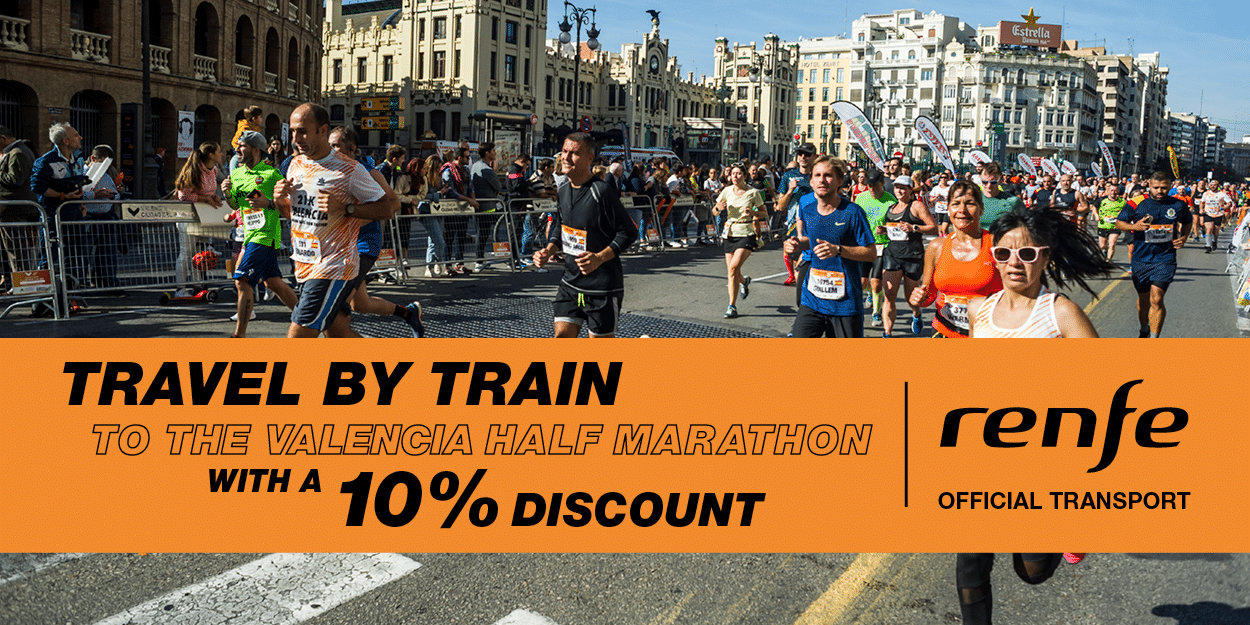 To benefit from them, runners must apply for it through the Valencia City of Running Self-management Zone which, after checking their registration, will send the "Discount Authorisation" by e-mail so that it can be used. This discount authorisation must be carried on the journey together with the ticket.
What steps should I follow to purchase discounted tickets?

In order for attendees to enjoy the discount when purchasing their tickets through www.renfe.com they must:

1. Select the train they want by checking any of the available options (Basic, Elige, Elige Comfort and Premium).

2.- Select the Congress/Events NEC fare from the fare drop-down menu.

3.- Enter the authorisation number in the box indicating authorisation number (not valid for discount code box).
A 'runner train' with special advantages
Another option to travel to Valencia at the best price can be found in Welcome To Valencia by Transvia Sport. In this case, the agency has arranged with Renfe a series of limited seats specially contracted for the Valencia Half and Marathon in trains that have Madrid, Barcelona and Alicante as origin and destination and that, in addition, have advantages such as cancellation without expenses in case of injury (with medical certificate). This option can now be viewed on the "Special trains" tab on the www.welcometovalencia.com website or by calling customer service on 96 387 09 95.
Related news