35% discount on RENFE [Spanish National Railways] trains to speed to the Valencia Marathon 2019
9 August, 2019
Speed to Valencia on the train to run in the Valencia Marathon Trinidad Alfonso EDP. Once again this year, the event is being held by SD Correcaminos (running club) and Valencia City Council. The organisers are keen to make it easy for athletes and their companions to travel to the Running City to take part in the Marathon on the 1st of December 2019.
That is why various options are being offered again this year for early booking of train journeys to Valencia. Getting there by rail is trouble-free and quick. Tickets all come at a hefty discount offering bargain prices and choices.
RENFE rail tickets at a 35% discount
RENFE is again making a special offer that is ideal for both runners and their companions. There is a 35% discount on tickets purchased to the Running City for travel from the 27th of November through the 3rd of December 2019.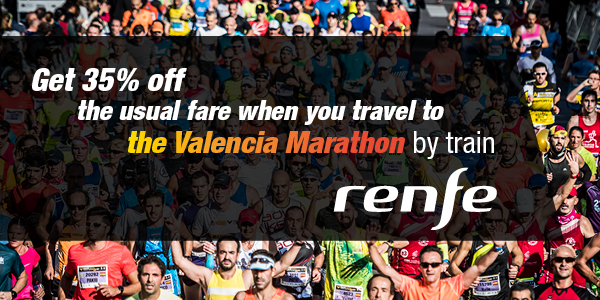 The discount will be applied to any flexible fare for all RENFE's long distance, and High-Speed Trains (AVE) to Valencia running between the aforementioned dates.
All runners that have already entered for the race and their companions are eligible for these discounts. Anyone wishing to take advantage of this RENFE special offer should apply once the runner's registration details have been checked. This authorisation must be shown to the ticket inspector on the train.
The discount can be requested in this link
+ Info e-mail to: info@valenciaciudaddelrunning.com
A 'runners' train' from Madrid, Barcelona and Alicante
Another option for booking your train trip to Valencia at the cheapest price is by going to the following web site: Welcome To Valencia operated by Transvia Sport [travel agents]. In this case, the agency has arranged a limited number of seats with RENFE for rail travel to the Valencia Marathon. The train services for Valencia run to and from Madrid, Barcelona and Alicante. Details of this option can be found under the "Special trains" tab in the web portal www.welcometovalencia.com or by calling the agency's Customer Care telephone number (+34) 963 870 995.
Related news